Real Residents, Real Reviews
Knowing who to trust in this journey is hard — especially when your loved one's health and happiness are at stake.
Real Residents


Real Reviews
Most senior living communities say similar things like: "We provide great care!" or "Our staff is the best!" or "Your mom will be happy here!"
But how do you know that's really true?
Our current residents and families know whether or not we walk the talk. That's why we give you direct access to their real thoughts and real options.
Reviews for Bickford of Bexley
The personal care has been great! Mom is happy

(Name Removed) is great. Sorry she's moving to the Upper Arlington location. But best wishes to her.

I am very happy with Bickford, but as much as we pay that Internet should be working 24/7!!!!! | I hope you take my comment seriously!!!! | That is the only bad thing I have to say about Bickford!!!

The care of mom is impeccable! Love all the staff!!!

My friend is happy there.

(Name Removed) and her team continues to do a great job. Thanks so much for your care and attention.

(Name Removed) and the entire staff do a remarkable job. Thanks so much!

Waiting 3 weeks for laundry to be done. Frustrating

(Name Removed) does a great job leading the Bickford. The nurses and staff are all wonderfully supportive. Thank you!

(Name Removed) is a consummate professional. We are blessed in our family to have (Name Removed) leadership at the Bickford of Bexley.

My mother has been going through a tough time recently. EVERYONE has been so kind and helpful with all of my questions and requests and helping my mother with all her needs. Every nurse, all of the aides and Hospice personal have kept me in the loop and encourged me to be part of the process in caring for this stage in my mother's life. How thankful I am! I know my mother is thankful as well!

(Name Removed) is an especially effective advocate for those in her care, as is (Name Removed). Thanks as always to both of them for their continuing leadership and help.

I continue to be so very thankful for the excellent care my mother receives at Bickford. The coordinated care between Bickford and Zusman Hospice is very reassuring. All of the caretakers are so kind and helpful. Bickford is a welcoming, safe place where the residents are treated with expertise, kindness, dignity and care. Thank you.

The care and attention at Bickford is unsurpassed.

Very happy with the care provided. Excellent compassion from the staff. (Name Removed) does a great job. Corporate business office leaves much to be desired.

The Bickford treated my Aunt with respect and patience. The atmosphere and care helped (Name Removed) recover from a broken hip and a badly infected leg wound.

The care and attention to my fathers wellbeing and happiness is unsurpassed. I am very grateful for the warm family atmosphere and for staff caring for his evolving needs. Thank you!

Thanks to (Name Removed), (Name Removed), and the entire staff for their continuing excellent work. I really appreciate it!

The last 30 days were extremely stressful for me. (Name Removed) took a fall... hit her head... and was taken to the ER. When I went into (Name Removed) room to pick up some items for her one of her aides was crying and another apologized because she had not gotten all the blood cleaned up and felt bad that I had to see it. (Name Removed) complained about severe pain in her side when in the ER but after taking a CT scan of her hip the ER doctor said it was just muscle pain. The next couple of days when I went to the Bickford several aides and other personnel reported that (Name Removed) was still in pain and not eating. The nurses were aware and kept a very close eye on her. When the next day she wasn't showing improvement and they were able to rule out constipation they reported to me and I was able to make 3 different appointments for tests. When all test results were sent to (Name Removed) doctor we were informed her Brest cancer had spread to her liver. Everyone at the Bickford looks out for (Name Removed) with compassion and kindness. I have never heard an unkind word from the staff or even the residents. A family environment is truly part of The Bickford's charm. The only reason I did not give a higher score was (Name Removed) care was raised to a 5 my husband and I were not given any information or notice on the change.....But to The Bickford's credit the director apologized & agreed it would have been better if we had met and things were explained.

The (overall) caring by 'ALL' of the staff is immeasurable!

(Name Removed), (Name Removed), and the entire staff do a great job with my mother. Thanks so much!

The clinical continues to be outstanding. My could not ask for better people to care for our Dad. Kind, compassionate and caring. He continues to do well at Bickford. I did not rate a 5 because the business office has not been responsive. There are questions about billing , credit card fees and payments . Despite calls to the corporate office there are no return calls to discuss.

Bickford has been incredibly attentive and kind to my father and our family as we navigate this time in our lives!

(Name Removed), (Name Removed), and the team consistently do a great job. Thanks very much!

The staff at Bickford are caring, kind, and extremely competent.

(Name Removed), (Name Removed), and the rest of the staff do a great job. Thanks so much.
Reviews FAQ
Bickford residents and families have frequent opportunities to participate in providing feedback throughout the year. Bickford sends out a comprehensive annual survey evaluating all aspects of a residents experience. Following this survey, Bickford sends out a monthly survey to see if we are making progress on improving their happiness levels. The responses to both surveys are posted on the website and remain there for a year.
Bickford is committed to transparency. That means posting all feedback – both positive and negative. Every review is included in our overall score (star-rating). However, we do not post comments that are libelous, profane or risk violating the privacy of our residents.
A Bickford Verified Resident Review is a review provided by a resident or family member/significant other that has been verified by Bickford as an authorized individual. Individual names are protected for privacy reasons.
Bickford has developed a program to improve resident happiness based specifically on the scores and comments of the surveys. Each Branch sets goals to improve targeted areas identified from the surveys. The actions that need to be taken are discussed as a part of each shifts daily stand-up meeting.
Due to the unique and personalized nature of our business, responses to reviews, if requested, happen individually.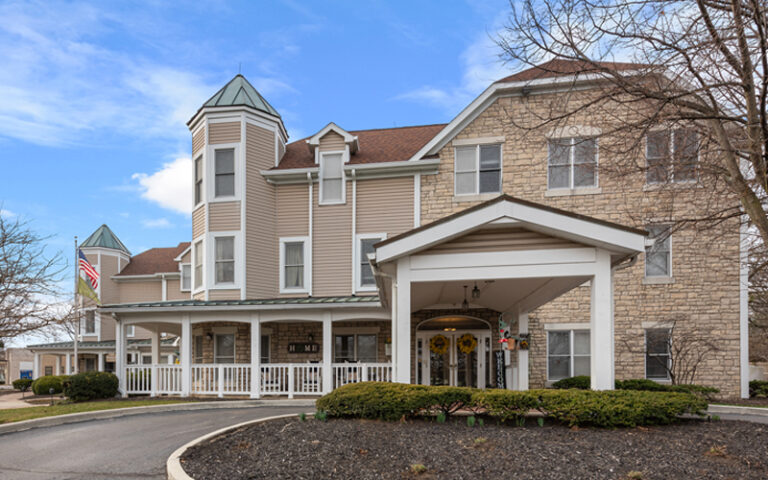 Bickford of Bexley
Assisted Living & Memory Care
2600 E Main St,
Columbus, OH 43209