Independent Living
Enjoy your golden years to the fullest
Care Available When You Need It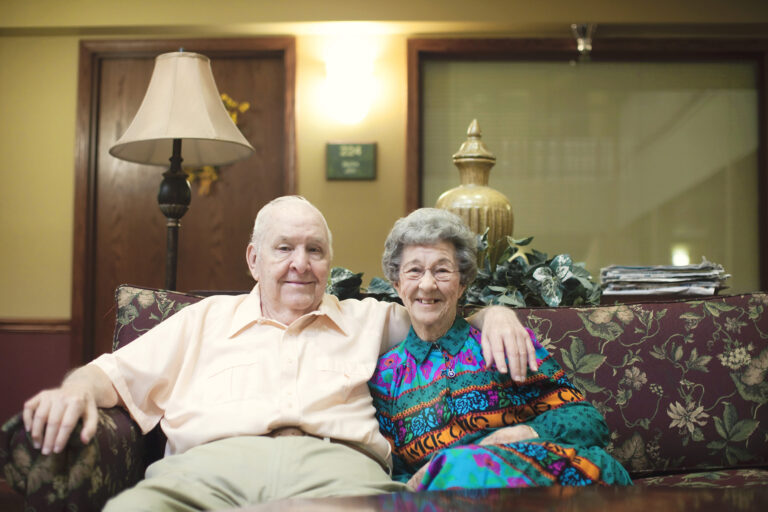 Your golden years shouldn't be lonely or burdensome
Running a household can feel isolating and overwhelming as we age. Chores like cleaning, cooking, repairs, and yard work may get increasingly tiresome. The walls of our homes, once a source of comfort, can start to feel confining.
Seniors living at home alone are at greater risk of:
Falls and accidents
Adverse drug events
Nutritional deficits
Depression and loneliness
The right living environment will prolong your independence
Independent living is designed to support a senior's health and autonomy. In private apartments, you have the freedom to maintain your daily routines and come and go as you please. Yet you never have to worry about home maintenance or other burdensome chores again. The community setting provides engaging activities and the convenience of freshly cooked meals. And if your care needs evolve, you'll have convenient access to additional assistance while remaining in your own living space.
Did you know
At Bickford, when you need additional care, you can transition to assisted living without moving
Independent Living At Bickford
At Bickford, we know you take pride in your independence. We're here to do whatever it takes to support you to live your golden years to the fullest.
What's included with independent living?
Optional routine health screenings from licensed healthcare professionals
Transportation services
Weekly housekeeping
3 fresh-cooked meals a day from our Bread Basket Scratch Kitchen
A full calendar of activities
Home maintenance
Access to laundry facilities
Resident security and monitoring system
Pet-friendly
Spiritual care
Access to amenities – family room, game room, library, etc
Independent Living Branches at Bickford
Common Questions
Yes. These are unfurnished apartments. Residents get to bring their own personal items and furniture to ensure their apartment feels like home.
Yes. Independent living residents can bring their cars with them when they make the move. Parking is free on-site. We also have Howie the bus for those who need transportation to routine scheduled appointments and group outings.
Yes. Pets are family. We welcome all shapes and sizes.
Yes. Our residents enjoy healthy, homestyle food for three meals a day from our Bread Basket Scratch Kitchen. Snacks are also available throughout the day — just like home. 
Yes, you're welcome to use the kitchen in your apartment however you like. However, that will not lower the cost of being a resident at Bickford.
Laundry for your linens, sheets, and towels is included with your weekly housekeeping. Personal laundry is not. If you'd like us to wash your clothes for you, this service is available for an ancillary charge.
We'll be right there to help no matter what happens. After a significant health event, it may be appropriate to re-evaluate if additional services will help you live your best life possible. If your care needs increase, we can provide care right where you are — without you having to move.
Independent Living may be more affordable than you think
You may be surprised to learn that many older adults spend more money living alone and paying separately for mortgage or rent, utilities, groceries, home care and transportation than they would living at Bickford. Try our cost comparison tool to help you compare your current living expenses to living at Bickford.
Compare Costs
---
More about Independent Living

Your golden years are meant to be golden. Enjoy life even more at Bickford Independent Living.