Bickford of Omaha – Hickory
Real Residents, Real Reviews
Knowing who to trust in this journey is hard — especially when your loved one's health and happiness are at stake.
Real Residents


Real Reviews
Most senior living communities say similar things like: "We provide great care!" or "Our staff is the best!" or "Your mom will be happy here!"
But how do you know that's really true?
Our current residents and families know whether or not we walk the talk. That's why we give you direct access to their real thoughts and real options.
Reviews for Bickford of Omaha – Hickory
We absolutely love all the wonderful care and love our mom receives from all of the Bickford Family! We are truly blessed to have found her such a wonderful and caring place that she calls home!!

Thanks for all your BFM's keeping my mother engaged!

We are extremely happy with all the wonderful care mom is receiving! She is so happy and content in her home! We love seeing her doing all of the activities through out the day! It's all because of the absolutely wonderful care, concern and respect that she is receiving! Thank you all for taking such wonderful care of her!!

We absolutely love the Bickford Family! The care, compassion and respect she receives is amazing! She is absolutely thriving and living her best life right now! It is so wonderful to see all the pictures of her doing so many activities! Thank you all for the wonderful care!!

We absolutely love all the pictures we see of our mom on Facebook! She sometimes forgets she does some of the activities so it's nice to see her out and about and with friends! We could not ask for better care and compassion you all show her. She truly is at home!! Thank you to all of you for all you do for her!!

5. However, though I know you're busy and understaffed, the letting us know what's going on hasn't happened. I'm not sure I get the real deal from (Name Removed).

Mom is so content and actually enjoying her life right now. She loves visiting with everyone and the BFM family is amazing with her. We couldn't ask for better care for her. You are all awesome! Thank you!

We feel very blessed to have mom as a part of the Bickford Family. She is treated with respect, kindness, concern and love. She is definitely living her best life right now! Thank you all for everything you do for her!!

We truly appreciate listening to all of our cares and concerns for mom. We are so happy with all the love and respect she is shown everyday. We absolutely love you all!!

We are very happy to see how our mom is living her best life and always smiling in the pictures !!

As I've said before, I appreciate the honesty and full explanations of any questions I have had. Every staff member I've met has been friendly and candid with me. For many years I have subscribed to the theory that if it flows smoothly,it's a pretty good indicator that it's God directed. So. ❤️

It's difficult to understand why someone wasn't helping us when we moved (Name Removed) out. Every time the door was opened to move furniture the alarm went off. It stayed on for a long time each time. Someone should have been there to take care of the door. Another problem is that you need to have someone at front to open doors for people as they come to visit loved ones and also when they leave. It sometimes takes as long as 10-15 minutes to get someone to open doors. I know everyone is really busy but there needs to be someone up front at all times.

We are extremely happy with the care and love our mom is receiving. She is so blessed to have you all in her life and ours. With all the love and affection and respect that she receives it makes us at peace with her and us as a part of the Bickford Family. The only concern we have is that she showers/bathes at least once a week. We know sometimes she wiggles her way out of it. Thank you all very much!!

The Bickford Family has helped mom more than we ever expected. They have brought her a sense of joy, love, and peace. She is truly living her best life right now. Thank you to all of you for making Bickford her home!!

With the patience and care of the BFM's our loved one is verbally sharing with us how much he enjoys living at Bickford! Thank you for all you do!

We have been truly blessed to become a part of your caring, compassionate, and loving family. Our mom is the happiest we have seen her in a very long time and it's due to the thoughtfulness, respect and love that you give to her and also her family!

Appreciate all you do for Mom, The bowls of blessings was wonderful

Mom is very happy at Bickford, and she is well cared for. It gives all her children a lot of peace of mind.

We are truly blessed to be a part of the Bickford Family. All the love, devotion, and care you show not only our mom but our whole family. We could not be more happy how she is just thriving. Thank you all very much!

Bickford is a great place for our loved one! They have fun activities, they engage the residents in easy tasks, go on field trips, and take great care of them!

Thanks for all you do for my mom

We are so happy to see her going on all the wonderful little trips she has been doing! She is receiving the best care, love, and respect we could ever have hoped for. She truly is at home!!

Awesome place for our loved one to live! They do so many fun activities and outings to keep him engaged, and always keep us informed of anything he is in need of.
Reviews FAQ
Bickford residents and families have frequent opportunities to participate in providing feedback throughout the year. Bickford sends out a comprehensive annual survey evaluating all aspects of a residents experience. Following this survey, Bickford sends out a monthly survey to see if we are making progress on improving their happiness levels. The responses to both surveys are posted on the website and remain there for a year.
Bickford is committed to transparency. That means posting all feedback – both positive and negative. Every review is included in our overall score (star-rating). However, we do not post comments that are libelous, profane or risk violating the privacy of our residents.
A Bickford Verified Resident Review is a review provided by a resident or family member/significant other that has been verified by Bickford as an authorized individual. Individual names are protected for privacy reasons.
Bickford has developed a program to improve resident happiness based specifically on the scores and comments of the surveys. Each Branch sets goals to improve targeted areas identified from the surveys. The actions that need to be taken are discussed as a part of each shifts daily stand-up meeting.
Due to the unique and personalized nature of our business, responses to reviews, if requested, happen individually.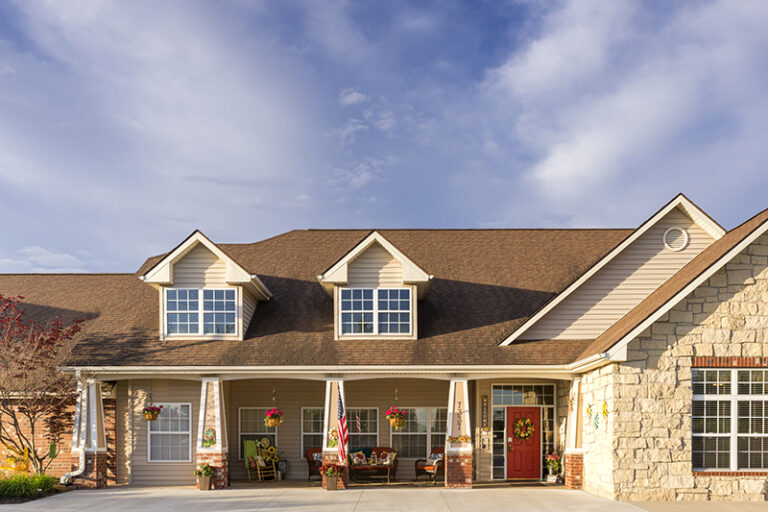 Bickford of Omaha – Hickory
Assisted Living
7337 Hickory St,
Omaha, NE 68124