Real Residents, Real Reviews
Knowing who to trust in this journey is hard — especially when your loved one's health and happiness are at stake.
Real Residents


Real Reviews
Most senior living communities say similar things like: "We provide great care!" or "Our staff is the best!" or "Your mom will be happy here!"
But how do you know that's really true?
Our current residents and families know whether or not we walk the talk. That's why we give you direct access to their real thoughts and real options.
Reviews for Bickford of Okemos
My mom is settling in nicely. The caregivers are so kind and caring. I'm happy with my choice of Bickford of Okemos for my mom.

Thank you for all you do. I appreciated the rapid response to my emails this week and including Mom in more activities.

It's been an amazing turnaround. The Okemos Bickford is once again a stand out in the community for its caring atmosphere, professional staff, and excellent director.

(Name Removed) is extremely responsive to any requests. Made sure mom got a ride to her 89th birthday lunch, so we could meet her at the restaurant. Very helpful to us.

I would rate at 4.9 We struggled a little with the laundry scheduling a little, but overall pretty satisfied.

Biggest concerns: getting Mom engaged in activities and cleanliness of toilet. Appreciated the Family Meeting yesterday. (Name Removed) is committed to insuring Bickford is a homy community of well cared for residents. Staff are always responsive to call light and very caring to Mom. Appreciate everyone wearing name tags!! Thanks for all you do.

(Name Removed) gets high marks for her constant and continual efforts to create a welcoming and supportive atmosphere and to hire and keep excellent staff. Next to having the right director, the staff and staffing is the key to everything - at least for memory care - because without good staff and enough staff the experience is miserable.

(Name Removed) is wonderful and clearly is delighted to be working for your organization. (Name Removed) is a gift in all the ways. (Name Removed) is delightful and cheerful. I don't see (Name Removed) much anymore but the folks in the very back where mom was in Mary B for a while are also extremely dedicated and beautiful humans. There are so many good people there, I'm so grateful. The new cook whose name I am blanking on is really courteous with the residents, She always comes out after they have mostly eaten and asks how they are and whether they want more. My mother is hearing impaired and also kind of too polite to ask for more so they've started just giving her extra vegetables which is what she will eat without prompting. They also have learned to not put cheese on her food anymore which really helps her want to eat it. She grew up on a farm and cheese is not appetizing to her. Except, for some reason, grilled cheese sandwiches which have a sentimental memory attached.

Appreciate the techs and (Name Removed)- extra efforts with my dads continued leg/foot care - "happy place monitoring" and needing addtl communication with Drs and med providers this last month ! Such a challenge - but not completely daunting with the Bickford Team ! Thanks for the great job and professionalism !

Appreciate all (Name Removed) did to help figure out how to reduce expenses and a room that worked for Mom. Lots of new staff, all very caring and nice. Would appreciate name tags since I can't always remember their names even after I've asked. Oxygen has been a little tricky, not everyone well versed on managing changing tanks. Also would appreciate getting Mom out of her room as much as possible tho I know not all activities are appropriate given her hearing and vision limitations. (Name Removed) (spelling) very thoughtful. Love the Mickey Mouse pillow she brought Mom. (Name Removed), (Name Removed) and (Name Removed) are wonderful. Thanks so much to everyone for all the great care.

Thank you for ensuring my mom receives the newspapers (Detroit Free Press and Lansing State Journal) that she pays for!

Staff has gone above and beyond with extra care for my dads health care needs - plus I also see on a continual basis staff doing extra daily things for comfort and care of other residents - appreciate the great effort

It is at the staff level where positive experiences for residents happen and (Name Removed) deserves recognition for her efforts to build a caring and competent staff. I also think (Name Removed) (in MB) deserves extra appreciation. I have seen first hand hand her dedication to the residents, her patience with challenging behaviors, and the truly excellent level of care she delivers.

Your people are everything. (Name Removed)is the best culture leader I've seen in a long time. It's rare to find a leader of such heart, anywhere. I am particularly happy with how well the direct care and support work humans are treated. Mom was at a previous rehab for over a year and the management acted as if Mom's "safety buddies" were not trustworthy to know things that truly impacted them. They were the 24/7 backbone and they were aware there were things treated as secrets that were absolutely reasonable for them to know while giving care. (Name Removed), new care team members, are impressive.

I am continually pleased with the staff. There are too many names to remember and I'm sad that I can't get them all in here. This month, I watched (Name Removed) and (Name Removed) make sure that a gentleman who was very shaky always had support when he was walking even though they had to run at times. The new young lady (Name Removed) is delightful. (Name Removed), (Name Removed), (Name Removed), (Name Removed), always (Name Removed). I met (Name Removed) and she seems lovely, too. Why can't I think of the maintenance gentleman's name? Mom is having a few more bad memory days, and staff have really supported me when it's hard for me to leave the building. Mom seems to think I'm going to take her home lately. It's really hard and they are great. Please take a good look at what isn't working in your kitchen for your cooks to turn over so fast. There must be a system problem not merely a staff problem. we (including myself in your team) want to keep (Name Removed) happy.

The staff continues to impress me. They work hard and are attentive to the residents. (Name Removed), (Name Removed), and (Name Removed) are always extremely friendly and helpful.

The employees consent to be amazing. The new cook and new caregiver (Name Removed) have gone out of their way for mom this week.

Night and Day improvement! My mom's apartment is the tidiest I have ever seen and have enjoyed meeting the new staff. Many thanks to (Name Removed), as well as (Name Removed), (Name Removed), and (Name Removed), among others!!

Love the staff! My mom is getting excellent care and I couldn't be more pleased.

Cleanliness could improve. The sheets are not changed on regular basis. Bathroom is not given a good cleaning often.

My biggest concern is the amount of time Mom spends alone. I really like the team of staff. It's nice to see consistent faces. They are all friendly and nice.

The staff continues to be fabulous. Mom has been there a full 3 years now. So grateful.

(Name Removed) is a great director. Friendly , responsive. Very personalized holiday activities. Mom loved the Mickey Mouse toy. Good to see (Name Removed) again.

I continue to be extremely pleased with the staff, their friendliness, and competency. The Director, (Name Removed), has been wonderful as well as the individual employees I have encountered. The food looks delicious and the activities they have been providing are great! I am extremely satisfied with the care my mother is receiving at Bickford of Okemos.

(Name Removed) is wonderful. Thanksgiving was wonderful. Grateful for staff. Thank you so much!

Would have been a 3, but (Name Removed) and (Name Removed) are a big improvement! Cant go 5 because the quality of workers isnt as good as it used to be.

My mom still isn't having people available who know how to change her colostomy bag. Unhappy with her care.

(Name Removed) is wonderful. She addresses my questions in a timely manner and is always helpful and cheerful. The the staff I have met so far has been awesome. They are friendly and attentive to the residents. They truly care about the people they care for. I am extremely satisfied with the Bickford facility and staff.

(Name Removed), (Name Removed), (Name Removed), (Name Removed), and all staff have really been a Godsend. Thank you to all BFMs, too!!
Reviews FAQ
Bickford residents and families have frequent opportunities to participate in providing feedback throughout the year. Bickford sends out a comprehensive annual survey evaluating all aspects of a residents experience. Following this survey, Bickford sends out a monthly survey to see if we are making progress on improving their happiness levels. The responses to both surveys are posted on the website and remain there for a year.
Bickford is committed to transparency. That means posting all feedback – both positive and negative. Every review is included in our overall score (star-rating). However, we do not post comments that are libelous, profane or risk violating the privacy of our residents.
A Bickford Verified Resident Review is a review provided by a resident or family member/significant other that has been verified by Bickford as an authorized individual. Individual names are protected for privacy reasons.
Bickford has developed a program to improve resident happiness based specifically on the scores and comments of the surveys. Each Branch sets goals to improve targeted areas identified from the surveys. The actions that need to be taken are discussed as a part of each shifts daily stand-up meeting.
Due to the unique and personalized nature of our business, responses to reviews, if requested, happen individually.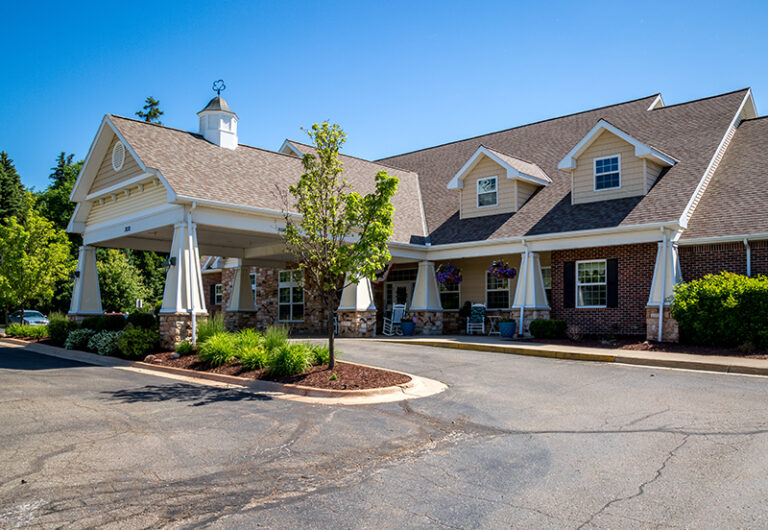 Bickford of Okemos
Assisted Living & Memory Care
3830 Okemos Rd,
Meridian charter Township, MI 48864