Real Residents, Real Reviews
Knowing who to trust in this journey is hard — especially when your loved one's health and happiness are at stake.
Real Residents


Real Reviews
Most senior living communities say similar things like: "We provide great care!" or "Our staff is the best!" or "Your mom will be happy here!"
But how do you know that's really true?
Our current residents and families know whether or not we walk the talk. That's why we give you direct access to their real thoughts and real options.
Reviews for Bickford of Middletown
Looking forward to the referral bonus next bill! That's a great program. The extra care mom needed for a few days this month. She felt very attended to.

Thank You for the great attitudes, care and love you give Mom and the rest of the residents ! Nurses who have been extra helpful were: (Name Removed) Thank you !

I'm Driving - Sent from My Car | Thank you all so much for your kind care and for easing my mother's path!

Beautiful new carpet in common areas. Great nursing. Good communication from staff. Trying to get mom to participate in activities. Move in referral bonus!

Staff are patient and very courteous to my Dad.

(Names Removed) have been very informative about Mom's status. Also (Name Removed) in dietary support has been super nice and a great attitude! Love her smile and positive attitude towards Mom and the other residents. | I sincerely appreciate (Names Removed) updates!

Visited my Dad issues with low staffing and running out of food, poor food quality

Very poorly run , very dirty.!

(Name Removed) not responding to emails or phone calls or even confirming she reads emails is unprofessional.

Personal care to make sure mom knew how family was going in surgery when we couldn't get to see mom that day till evening! I would text (Name Removed) and she would update mom. Thanks to (Name Removed)!

(Name Removed) has concern for Mom's physical and mental status, notifying me of her extreme glucose changes and following up with information on her mood changes that he has noticed. (Name Removed) has been exceptionally helpful to me these last few months. THANK YOU to (Name Removed) for ALL that he does! It does not go unnoticed. We appreciate his professionalism, genuine care and positive attitude for Mom and the other residents.

After 5 years of consistently getting his toenails trimmed with the podiatrist, our dad has been left out. This means approximately 3 months without foot care. We are very distressed about this. The weekend/ holiday meals are often very late being served due to staff shortage, the outside furniture is covered with cat hair making it unpleasant to sit outside, and finally, I've called the past two days requesting to speak with Cecilie and have not received a call back from anyone. Thank goodness it wasn't an emergency.

Actually thought less than 1, but your system won't accept that. Continued poor planning in dining room stables resulted in running out of bacon and bread this morning for breakfast. This happens so many Sundays - at times they have run out of coffee which along with toast is a requirement for breakfast. Dryer continues to be an issue - ducts need to be cleaned - fire hazard if they are clogged.

As always the kindness of your Mary B's staff is much appreciated!

We love all of The Bickford staff. (Name Removed) is awesome, as well as the BFMs who take care of our mom. The new aide named (Name Removed) has been doing an amazing job. She and our mom have already formed a bond after just a few days. Thanks for everything you do!

Thank You so much for the Mother's Day Tea. (Name Removed) is awesome with her ideas for the residents to stay involved with the activities. Nurses are also fantastic! We appreciate all that they do ! (Name Removed)! Aide's always show smiles and caring attitude! (Name Removed). Dining aide (Name Removed) has been very helpful and supportive! (Name Removed) are awesome too ! Thank you for making Mom feel at home !

If I could get responses to emails within 3-5 business days it would be appreciated. Having to hassle the staff for an answer is annoying for everyone.

Quick response to mom when she passed at at dinner. My only suggestion is to serve diabetics their food first since they have gotten insulin

Great nursing, clean room, love and care of my mom. Staff responsive and takes my calls soon and helps with any needs of my mom. Working to find activities mom likes. Started Pet therapy which I suggested. Thanks for listening!

Nurses: (Name Removed), (Name Removed), (Name Removed) and (Name Removed). Aides: (Name Removed), (Name Removed) and (Name Removed) have been awesome! Thank you to ALL for their positive contributions in caring for the residents.

Excellent care of my mom who is in a fragile state

I have already discussed with (Name Removed) and (Name Removed) at Middletown, the agency nurse forgot to give my mom her morning insulin 02-02-23. My mom is enjoying the food some better and said the chef is super nice to come check in with mom nearly every meal to ask her how the meal is.

They are doing better at brushing my Mom's teeth. They seem to be brushed about half the time. They also seem to be taking her out of Mary B's some and I know she likes that. I got her new slippers for Christmas and when I put them on, her toe nails were long and nasty. I asked the nurse if she could be scheduled for the podiatrist and she said he was just there so it would be 3 months before he was back. As long as they were, she should have been scheduled when he was just there. My brother cut them the best he could but would you please put her on the list for the next time he is at Bickford. Thanks Happy New Year!

Doing a much better job minimizing her from potential falls especially by not leaving her alone// new wheelchair immense improvement// lowering bed to lowest limit// built in wedges on mattress//keeping wheelchair tilted back when not eating. Did a fabulous job decorating for Xmas

The food continues to be a problem although mom said the chicken and dumplings and roast beef has now gotten to be very good. Meat overall can be tough. And fruit hard. Why can't soft canned fruit be used? Moms blood pressure fell 12-24-22 and Nursing said that moms blood pressure falls at times. Would like abnormal reaction to moms blood pressures (low and nearly passing out) and UTI symptoms to be called to family doctor each time it happens so meds can be adjusted or urine tested. Would like to see a few new activities offered as mom is not into doing crafts. Having said this all, the facility does offer activities and (Name Removed) is great. Christmas evening when I brought mom back at 8:30 pm, there was a truck parked right in front of the sidewalk under the over hang and I could not get mom in due to ice. So we waited. It took over 15 minutes before the family can to move their truck. Families should not leave their vehicles unattended there because it makes others have to wait. Then when I got mom to the door, my key would not work and I rang the bell. There were two aids sitting at the desk and they didn't come. I called the phone and no one answered. This took about 5-10 minutes of waiting at the door trying to get mom in. So I finally just opened the door and the buzzer went off that's when the aids got up. So they aid told me the phone calls goes to the nurse. Well why can't the aids answer the phone? And why can I get into the building? And why didn't the buzzer work at the door to call for help to get mom in? Just frustrating! I have also come when her bathroom

I ask all the time if they would brush her teeth but that rarely happens. I ask that they would take her to church and singing guests. I don't know if they take her to church but when I was there today there were people singing and she wasn't out there. I ask the nurse why she wasn't there and she didn't know. She said they took two people out there but she didn't know why they didn't take my mom. They just sit there and watch tv and they need to get out of that room. Music brings out the best in her.

Appreciate all who are part of Bickford. Nurses: (Name Removed), (Name Removed), (Name Removed), (Name Removed), (Name Removed). Aides: (Name Removed), (Name Removed), (Name Removed). (Name Removed) gives her all to the residents.

Made significant changes to prevent my wife from falling

Super thankful for the nursing staff who has been very attentive to mom this past 10 days with her cold/cough. The food has been some better mom said. Said meals are getting smaller and smaller. The chicken and dumplings had more meat in it this past month which is an improvement.

Love the activity's they have for residents.

As always I thank you all for your kind care of my mother.. especially through her current mood and memory swings

Meals again are needing improvements. She said breakfast is always good! But lunch and supper choices needs improvement. Pork was tough. Vegetables are either under cooked or over cooked. One day they only made 25 muffins so mom didn't get one. Said her table is always served last.

Thank You for starting the Family Review meetings again! Appreciate the communication to us via email too from (Name Removed) ! All Nurses have been fantastic! ((Name Removed), (Name Removed), (Name Removed), (Name Removed), (Name Removed), (Name Removed) )The aides are doing great too, appreciate their smiles and greeting me every time ((Name Removed), (Name Removed), (Name Removed), and others).

As always your excellent care of my mother in difficult circumstances is much appreciated...she knows that she is among friends
Reviews FAQ
Bickford residents and families have frequent opportunities to participate in providing feedback throughout the year. Bickford sends out a comprehensive annual survey evaluating all aspects of a residents experience. Following this survey, Bickford sends out a monthly survey to see if we are making progress on improving their happiness levels. The responses to both surveys are posted on the website and remain there for a year.
Bickford is committed to transparency. That means posting all feedback – both positive and negative. Every review is included in our overall score (star-rating). However, we do not post comments that are libelous, profane or risk violating the privacy of our residents.
A Bickford Verified Resident Review is a review provided by a resident or family member/significant other that has been verified by Bickford as an authorized individual. Individual names are protected for privacy reasons.
Bickford has developed a program to improve resident happiness based specifically on the scores and comments of the surveys. Each Branch sets goals to improve targeted areas identified from the surveys. The actions that need to be taken are discussed as a part of each shifts daily stand-up meeting.
Due to the unique and personalized nature of our business, responses to reviews, if requested, happen individually.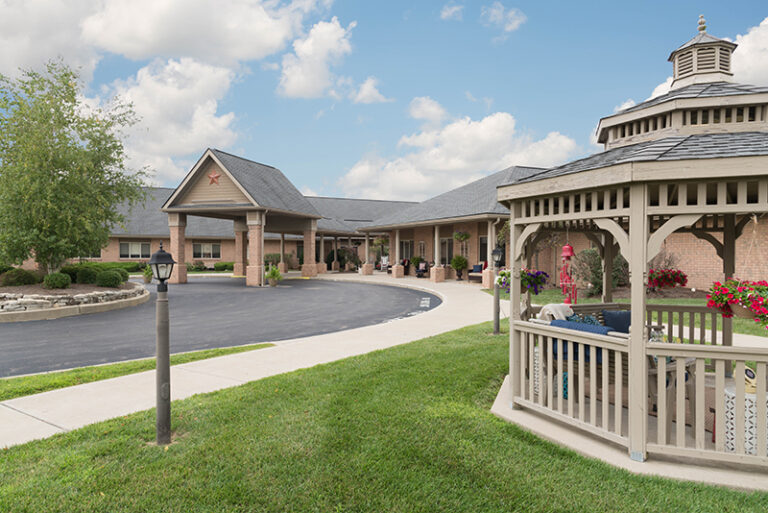 Bickford of Middletown
Assisted Living & Memory Care
4375 Union Rd,
Middletown, OH 45005