Real Residents, Real Reviews
Knowing who to trust in this journey is hard — especially when your loved one's health and happiness are at stake.
Real Residents


Real Reviews
Most senior living communities say similar things like: "We provide great care!" or "Our staff is the best!" or "Your mom will be happy here!"
But how do you know that's really true?
Our current residents and families know whether or not we walk the talk. That's why we give you direct access to their real thoughts and real options.
Reviews for Bickford of Burlington
My wife is in memory care, which requires special care. The care is excellent. Everyone is so caring and loving. She is happy there and doing well.

Dad absolutely loves (Name Removed) and (Name Removed) that have arrived at Bickford. I hope they get to always go to Mary B side daily!

I couldn't have imagined a warmer welcome for my father and family. Everyone was incredibly kind and went above and beyond their responsibilities to be kind and welcoming. The aesthetics of the facility are homey and the staff treat everyone like family. And there are so many activities to do! This place seems like paradise for older adults!

Staff is very caring and kind

They care about the residents. Have experienced caretakers.

The activities for everyone and including everyone as much as possible is so good to see!!

1. Still no response, or even acknowledgement, of my communications of July 16 and July 21. 2. Billing issue not resolved until August 11. 3. Continual tension throughout the month affecting the general atmosphere of the facility that was noticed by many residents 4. Med tech continues to cause tension and alienate residents through actions such as later than usual delivery of meds, forgetting to bring all meds in a single trip, insensitive remarks to residents and family members, showing up when not called or delivering meds, or when others have already responded, without providing any assistance or value for being there, etc.

Too much to detail in a text. Will summarize top points as best possible. 1. Incorrect billing- not resolved and no communication unless I initiate. 2. Outdated service plans-only partially resolved. 3. Toilet that has malfunctioned since move in. Runs constantly and clogs even with a normal amount of waste. Repeated requests to fix properly. 4. Officious med tech/aide that alienates residents and spends so much time telling others how to do their jobs, reporting staff infractions real or perceived, and camping on her phone that she is incapable of performing her own job in a proper and timely manner. 5. Ants in the apartment. Already been reported. Now fix. Taking care of these items will be a start.

Very satisfied with all the staff. They are very concerned about all the patients and know how to care for those with severe memory problems. My wife loves them.

I am completely satisfied with Burlington Bickfood. The staff are outstanding. Every member works hard to make residents comfortable and happy

Mother (Name Removed) are just so admiring of each and all of you consistently for over 2 yrs. We are so fortunate. To friends & relatives I say, "I'm going over to my CLUB today," as if you're a country club !

(Name Removed) and her entire team provided such wonderful care for my father… From start to finish. The staff was very professional, timely, courteous, and kind… Definitely a tone set by (Name Removed). She always went above and beyond in every way to make my father and our family feel so good about the care he was receiving, and always so available!! Three cheers for Burlington Bickford! We are so thankful to have that wonderful assisted living in our community!

(Name Removed) needs more care then she is getting for the extra money she is she is paying!

Communication remains a concern.

Even though Mom does not participate, I appreciate all the activities offered and the Facebook postings. I miss the activities calendar being posted on the website so that I can encourage Mom to join in the fun.

Staff who are mother (Name Removed) & my absolute family have done triple duty to minister to her left hip & leg & foot healing. Her main motivation to surprise all hospital personnel (with passing Rehab Return Evaluation) was yearning to get back to the beauty & spirit of a Bickford Xmas and her Bickford staff family & friends. We say to each other: "How in the heck do they DO it all & daily & smiling ? !"

Staff is remarkable consistently. Perfect balance of being a pro and yet from the heart, giving friendship that adds to my visit. Mother (Name Removed) & I have fun with staff, even though they're on the move to aid & inform the next Bickfordian.

Mom seems content. No concerns

To no one's fault there have been several understaffed shifts. Otherwise, the care is exceptional! The staff is very friendly and hard working!!!! BC us a delightful assisted living center.

Not enough caring employees!

The dirty table and urine smell continue but the situation was explained to me and I've been told there is an end date to the condition. Communication between family, director, and staff is another repeated concern after I made a recent visit ie I thought I had an appointment with the nurse but it was not on her schedule. I'm not sure what system is in place but it needs to be reviewed. Turnover means very few familiar faces when I visit every few months and that's disheartening. On the plus side, staff and director are always willing to answer questions and do whatever they can to be responsive in the moment. (Name Removed) especially is (and has been since Mom moved in) intuitive at knowing how to put a resident and their family at ease and problem solving on the spot. I hope that Bickford realizes how talented she is and takes the appropriate steps to ensure she stays a valued long term member of the team. I would like to add that I do believe that the majority (I do not say "all" simply because I haven't interacted with everyone) have shown genuine patience and kindness towards my family and especially my mom. We thank the team very much for all the hard work they do

Bird cage area needs daily monitoring for cleanliness. The card table is frequently dirty and there is often a strong urine smell in the area. On the plus side thank you for making sure Mom has transportation to her volunteer position at the hospital gift shop

8 % increase in cost and he hasn't been there 1 year yet.

When my mother calls for toilet assistance in the early morning (usually around 4-6 am), she wants just that: toilet assistance and then back to bed. She does NOT want to get up, get dressed and get in her chair. Some of the staff members ignore her and decide it's more convenient for them to do it all at once - no matter the time. I have requested multiple times for this behavior to stop! My mother doesn't go to breakfast and has no reason to be up that early. Furthermore she has difficulty sleeping at night and needs the extra sleep she gets in the morning. This happens so often that she's given up and usually doesn't even ask them anymore to let her go back to sleep. Not only are they disrespecting of her wishes but the additional time in the chair as opposed to the bed is contributing to the recurrence of the bedsores from her hospitalization we've worked so hard to eliminate. Please train all your staff people accordingly and let her sleep!

I feel Dad continues to do well at Bickford. I wish they could be included more with the outside interaction of entertainment whether it be music etc that comes to Bickford.

We have a list of things in recent months....much of which stems from turnover & we know that. The best things recently are (Name Removed) & (Name Removed). Mature. Conscientious. Compassionate. Here is what we see-- Labeled everything as suggested & this far we have lost all socks but 1; a blanket; a pillow; a laundry basket; etc. Aids do not leave footrests on Dad's wheelchair. His shower does not (did not) work. Our fobs have not worked right since we got them & we cannot get out of Mary B's many times. Aids sometimes do not have fobs to get out either & must call for help. You have some very good staff that we dearly appreciate, but some not so much. We feel fortunate to have hospice checking in as an extra set of eyes. We know DAd can be a pill at times, but his attitude has no bearing on any of the items mentioned.

Employees (some) do not show real care for people who need care!
Reviews FAQ
Bickford residents and families have frequent opportunities to participate in providing feedback throughout the year. Bickford sends out a comprehensive annual survey evaluating all aspects of a residents experience. Following this survey, Bickford sends out a monthly survey to see if we are making progress on improving their happiness levels. The responses to both surveys are posted on the website and remain there for a year.
Bickford is committed to transparency. That means posting all feedback – both positive and negative. Every review is included in our overall score (star-rating). However, we do not post comments that are libelous, profane or risk violating the privacy of our residents.
A Bickford Verified Resident Review is a review provided by a resident or family member/significant other that has been verified by Bickford as an authorized individual. Individual names are protected for privacy reasons.
Bickford has developed a program to improve resident happiness based specifically on the scores and comments of the surveys. Each Branch sets goals to improve targeted areas identified from the surveys. The actions that need to be taken are discussed as a part of each shifts daily stand-up meeting.
Due to the unique and personalized nature of our business, responses to reviews, if requested, happen individually.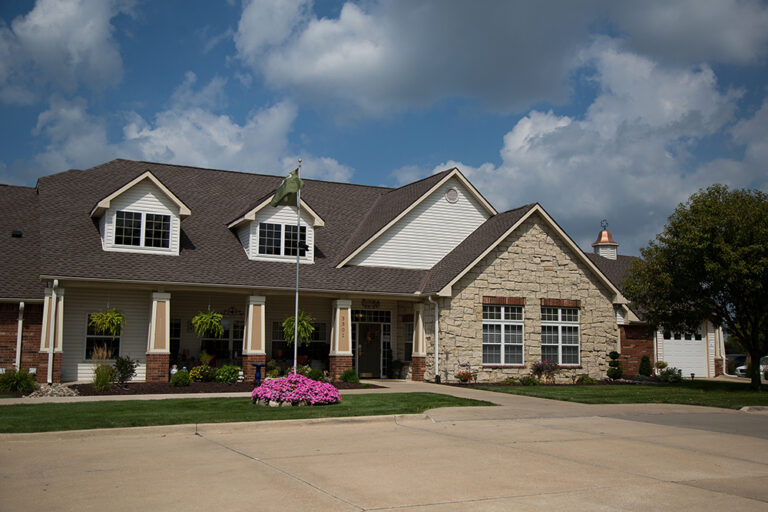 Bickford of Burlington
Assisted Living & Memory Care
3301 Sterling Dr,
Burlington, IA 52601