Real Residents, Real Reviews
Knowing who to trust in this journey is hard — especially when your loved one's health and happiness are at stake.
Real Residents


Real Reviews
Most senior living communities say similar things like: "We provide great care!" or "Our staff is the best!" or "Your mom will be happy here!"
But how do you know that's really true?
Our current residents and families know whether or not we walk the talk. That's why we give you direct access to their real thoughts and real options.
Reviews for Bickford of Chesapeake
Every piece of underpants were missing 10 Pair and all long and pants and shorts were missing...not in the laundry...most discouraging

(Name Removed) is definitely the heart of Bickford

(Name Removed) is just wonderful. I am so comfortable knowing he is there. Thank you (Name Removed). (Name Removed)

Excellent home for our Dad. The BFM's are wonderful! (Name Removed) who does all the activities is fabulous! (Name Removed) the director is amazing. Always involved and helpful.

Have asked (Name Removed) to contact me and she has not

I would love for someone to reach out to me and actually take the time to speak with me about our concerns. We have two residents in the facility. Thank you very much.

Again the new BFMs are positive, bubbly, and engaging. (Name Removed) is one that has come in and checks on mom frequently. (Name Removed) continues to be a bright spot in moms day along with (Name Removed).

Could be more informative of how my mom is doing. Left in the dark a lot

The price keeps changing, things were being done and added as a point system when I signed paperwork for it to not be done, have not received summary of bill as of yet but has ask.

Most of the staff has been really trying to help connect and make my Dad feel more comfortable and keeping him active.

Mom continues to thrive at Bickford of Chesapeake. The activities, good food and friendly staff helps her feel at home.

Could use a little more communication/updates. I know they are short staffed but it cost a lot so I expect a lot. Overall the staff and facility are great

Just wish they could incorporate a little bit more activity in the daily environment. Also, better way to secure wrist band on existing patients. Overall, Bickford is a wonderful place to be.

Activities were fantastic this past month! No thrilled that Dr and NP has changed and no on site FT Nurse Coord hired yet.

My mom went to bed in her clothes. Not much else to say

They have been fantastic to work with. I couldn't ask for more for Mom.

Great communication, terrific care, and residents are safe, happy and thriving!

Laundry hadn't been done so dad had nothing to change into if an accident occurred. I'm a little concerned about LPN leaving and no RN Coordinator yet. We need consistency at that level for daily medical support. Thx for asking for feedback.

All the BFM's are wonderful. My father gets such great care there. (Name Removed) the activity director plans such wonderful things for the residents. (Name Removed), (Name Removed), (Name Removed), (Name Removed), (Name Removed) and (Name Removed) the director are amazing. So happy we found the Bickford for our Dad.

(Name Removed) food situation is still a major concern. After 3 months it should no longer be a problem.

Bickford hass been a blessing. We were not sure if this was the right thing to do for Mom. Having her at Bickford has been the best decision we could have made. They're caring & loving attitudes let me know she's in safe hands when I can't be with her. Not to mention the food is fabulous!

Fantastic communication and follow up with whole team

Bickford is amazing. I am so thankful for everyone there and the care they show to my father in law. They truly are an extension of the family.
Reviews FAQ
Bickford residents and families have frequent opportunities to participate in providing feedback throughout the year. Bickford sends out a comprehensive annual survey evaluating all aspects of a residents experience. Following this survey, Bickford sends out a monthly survey to see if we are making progress on improving their happiness levels. The responses to both surveys are posted on the website and remain there for a year.
Bickford is committed to transparency. That means posting all feedback – both positive and negative. Every review is included in our overall score (star-rating). However, we do not post comments that are libelous, profane or risk violating the privacy of our residents.
A Bickford Verified Resident Review is a review provided by a resident or family member/significant other that has been verified by Bickford as an authorized individual. Individual names are protected for privacy reasons.
Bickford has developed a program to improve resident happiness based specifically on the scores and comments of the surveys. Each Branch sets goals to improve targeted areas identified from the surveys. The actions that need to be taken are discussed as a part of each shifts daily stand-up meeting.
Due to the unique and personalized nature of our business, responses to reviews, if requested, happen individually.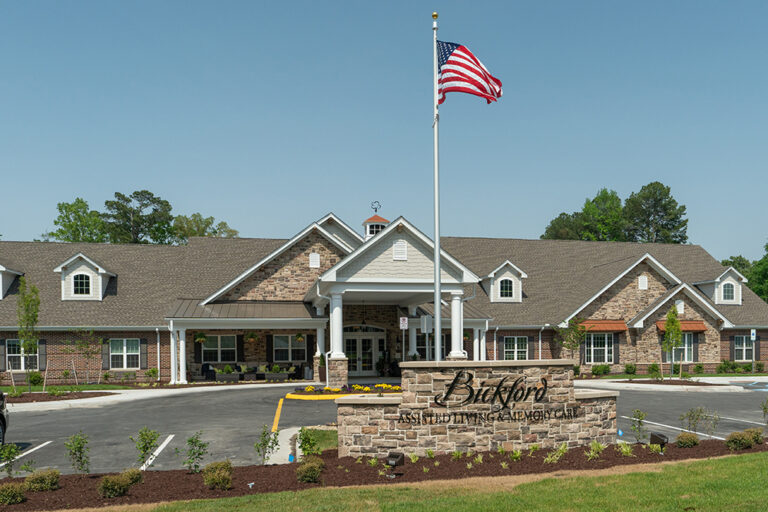 Bickford of Chesapeake
Assisted Living & Memory Care
361 Great Bridge Blvd,
Chesapeake, VA 23320