Real Residents, Real Reviews
Knowing who to trust in this journey is hard — especially when your loved one's health and happiness are at stake.
Real Residents


Real Reviews
Most senior living communities say similar things like: "We provide great care!" or "Our staff is the best!" or "Your mom will be happy here!"
But how do you know that's really true?
Our current residents and families know whether or not we walk the talk. That's why we give you direct access to their real thoughts and real options.
Reviews for Bickford of Aurora
The staff in Mary B's are amazing! Thank you!

Thank you for everything that has been done for Dad. Dad is moving on to the Illinois veteran home of Chicago. This is a benefit that he earned being in the National Guard. Thank you again for everything!

Staff has progressively less forth coming with information about conditions at Bickford & residents who are in their care. You will get answers if you ask specific pointed questions. I have friend who moved her Mother to a Bickford facility but is not having dressings changed as MD ORDERED.

I believe attention to details has been lacking lately at the community. At Mary B's there has been an increase of agency help and I have notice more falls have been occurring. A resident, who uses a walker should never fall in another residents room requiring an ambulance. If the main sitting area is being properly monitored that person should of never reached that distance. I believe the Mary B's area is not getting the most experienced CNA's which i think is invaluable to the safety of the residents. House keeping has also been declining. Beds not made, bathrooms not always clean and common areas being missed. I'm wondering was is being done during the middle of the night when some of the cleaning is done. Outside patio area has had cushions laying on the ground getting rained and snowed on. Shouldn't they have been brought inside for the winter? Is anyone walking the building to check and inspect the safety and cleanliness of Mary B's? Finally, and a very important area that needs to be address, is no communication is being conducted between shifts. The afternoon shift has no details regarding the residents on what happened in the morning shift. Likewise, the evening shift doesn't talk to the morning shift. This is extremely frustrating when trying to find out about what time they went to bed, how well they slept and how well they ate at meal times. I feel that these issues can be quickly resolved with management intervention. Thank you in advance.

Please share this with the entire staff from the director on down. Thank you for taking very good care of Dad.

Assisted Living is seeing tremendous hurdles at the moment with high rates of agency staff in house vs Bickford BFMs. This often causes disruption in care but (Name Removed) is continuously trying retain top notch agency individuals, is easy to contact if an issue arises and always follows up in a timely manner. She has been a pleasure to work with and a welcome addition to Bickford of Aurora!

Mom is happy and comfortable

No activities director. Depressing for my mother. Good care during nurovirus outbreak and quarantining. Chef attentive to modified diets.

Mom is comfortable and well cared for

Please share this with the entire staff from the director on down. Thank you for taking very good care of Dad.

Mom is comfortable and well taken care of

Still waiting for call back from (Name Removed) to discuss some issues. Nursing doing well

Please share this with the entire staff from the director on down. Thank you for taking very good care of Dad.

Cost per month. My mother is paying for a level of care that is not being performed. A lot of things that she is supposed to get assistance with, she is doing on her own! And the fact that she is paying for it but not receiving it is frustrating.

No follow up from people on issues I asked about

Always meets expectations and at times goes above expectations.

1) Last November 2021, over half of my moms closet of clothes went missing. After a several month investigation, there were no answers. The ED had left and the Divisional Director of Operation and I agreed upon a credit to her account. To date, I still do not have the credit and we are goin on 1 year of dealing with this issue. The new ED has escalated this accounting issue 3 times. 2) The staff is very good and I am overall very pleased with (Name Removed), (Name Removed) and (Name Removed). However my mom can be a handful not wanting to move, potty or get dressed. So BFMs tend to leave her alone. Sunday, 10/2, upon my arrival I found her saturated in urine. Her nightgown was soaked from her chest to ankles and urine was pooled on the floor by her chair. That tells me they left her alone for several hours. (Name Removed) was training someone but was amazing. She helped me get my mom changed. She even came back to get her in the shower.
Reviews FAQ
Bickford residents and families have frequent opportunities to participate in providing feedback throughout the year. Bickford sends out a comprehensive annual survey evaluating all aspects of a residents experience. Following this survey, Bickford sends out a monthly survey to see if we are making progress on improving their happiness levels. The responses to both surveys are posted on the website and remain there for a year.
Bickford is committed to transparency. That means posting all feedback – both positive and negative. Every review is included in our overall score (star-rating). However, we do not post comments that are libelous, profane or risk violating the privacy of our residents.
A Bickford Verified Resident Review is a review provided by a resident or family member/significant other that has been verified by Bickford as an authorized individual. Individual names are protected for privacy reasons.
Bickford has developed a program to improve resident happiness based specifically on the scores and comments of the surveys. Each Branch sets goals to improve targeted areas identified from the surveys. The actions that need to be taken are discussed as a part of each shifts daily stand-up meeting.
Due to the unique and personalized nature of our business, responses to reviews, if requested, happen individually.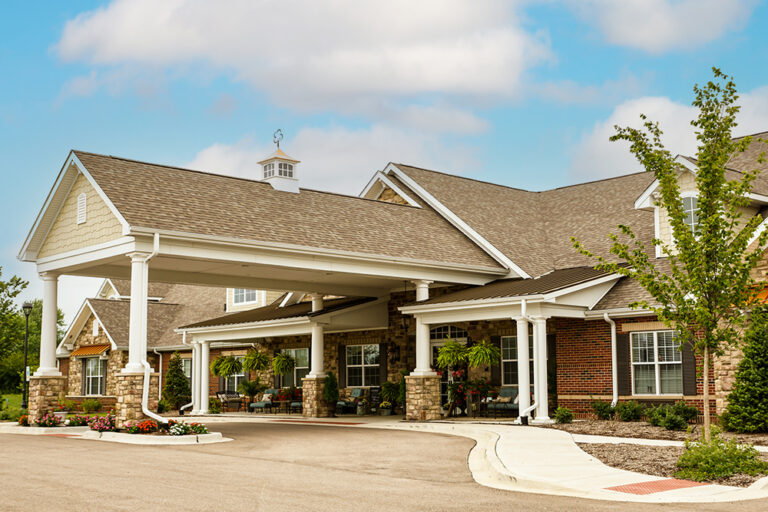 Bickford of Aurora
Assisted Living & Memory Care
7 S Orchard Rd,
Aurora, IL 60506