Bickford of Omaha – Blondo
Real Residents, Real Reviews
Knowing who to trust in this journey is hard — especially when your loved one's health and happiness are at stake.
Real Residents


Real Reviews
Most senior living communities say similar things like: "We provide great care!" or "Our staff is the best!" or "Your mom will be happy here!"
But how do you know that's really true?
Our current residents and families know whether or not we walk the talk. That's why we give you direct access to their real thoughts and real options.
Reviews for Bickford of Omaha – Blondo
4. Still wondering what the status of a full time nurse is at Bickford on Blondo - Omaha.

I am very happy with Bickford. They take good care of mom. I wish they were able to answer their phone every time someone calls. I understand that could be a staffing issue. It is hard to get and keep good help. This is a little thing when looking at the big picture. I continue to be happy with Mom's care.

Great community vibe. Having issues with Mom's health and the entire staff have been so supportive. I feel very confident about leaving her there.

My mother seems happy there and the staff really cares about her. The staffing has been more consistent lately so they know the residents better. |

I sent email on website and haven't heard anything back

When I visited my mother yesterday, her wheelchair was not in her room. I had to search for it and found it in the commons area. Why was it not in her room? Did someone else use it? In addition, I have found items such as eye glasses NOT belonging to my mother in her room. Are other residents in her room?. These are my concerns.

We appreciate all the staffs willingness to work with us on planning a birthday party for mom, room cleaning continues to improve, staffs willingness to help mom in every way they can and their willingness to keep us abreast of her needs. Thank you to all.

My sisters blood pressure reading were taken are were very high. The Med Tech used a Wrist Band Blood Pressure instrument. I asked the Med Tech to please use a BP Cuff and Stethoscope . She did that and it showed my sisters BO was normal. I would advise Bickford to stop using the Wrist BP technique . Only use a Cuff and Stethoscope.

Though I am generally satisfied with care my mother receives at Bickford I do have two important concerns I want addressed. 1)It is my u derstanding the nursing staff routinely injects my mother's insulin in her abdomen, this is NOT the optimal injection site. My mother has injected herself in her stomach for years and scare tissue has developed as a result. I want her injections moved to her ARMA OR THIGHS. I believe the I b sulin will be more effectively absorbed in fresh Injection sites. 2) When my mother's blood sugar is running extremely high , I question why she is given a full meal followed by a snack. Meals are important but with extreme BS, would it not be better to wait temporarily? Thank you (Name Removed)

Enjoyed the Mother's Day/Memorial Day Picnic. Staff very attentive to families. Thank | Food was excellent.

Bathrooms both public and private were clean. Mom was ready on time. People knew where her hearing aid batteries were supposed to be.

I do have a billing issue that your administrator has failed to address

My mother is very happy staying at Bickford. The staffing has stabilized lately and the communication with the administrator is very open

Things are going fairly well however I have brought up concerns about medications and asked for some feedback but haven't heard back. Her medications with insurance are expensive and they seem to be overusing them and therefore we are paying a lot more because of frequent refills.

I am very appreciative of your increased communication efforts. I enjoy having the opportunity to know what is going on and also creating fun opportunities for family members to be a part of our loved ones lives. I like the openness of Administrative staff being transparent and available. I look forward to seeing the changes that are being made that will affect all the residents in a positive way.

I think things are getting better with new management. It has been a complete mess for a few years.

My loved one loves living at Bickford! Thanks for all you guys do!

I have nothing positive to say.

I find that the staff and management are very cordial and helpfu.

He has a messy popcorn habit and we clean on Saturdays and Wednesdays when we're there. It would really be nice to have his official Bickford cleaning on Mondays if at all possible.

Dad would like to see meals like the Thanksgiving meal!! It was really really good!!!

I appreciate being kept up to date on what is going on with (Name Removed).
Reviews FAQ
Bickford residents and families have frequent opportunities to participate in providing feedback throughout the year. Bickford sends out a comprehensive annual survey evaluating all aspects of a residents experience. Following this survey, Bickford sends out a monthly survey to see if we are making progress on improving their happiness levels. The responses to both surveys are posted on the website and remain there for a year.
Bickford is committed to transparency. That means posting all feedback – both positive and negative. Every review is included in our overall score (star-rating). However, we do not post comments that are libelous, profane or risk violating the privacy of our residents.
A Bickford Verified Resident Review is a review provided by a resident or family member/significant other that has been verified by Bickford as an authorized individual. Individual names are protected for privacy reasons.
Bickford has developed a program to improve resident happiness based specifically on the scores and comments of the surveys. Each Branch sets goals to improve targeted areas identified from the surveys. The actions that need to be taken are discussed as a part of each shifts daily stand-up meeting.
Due to the unique and personalized nature of our business, responses to reviews, if requested, happen individually.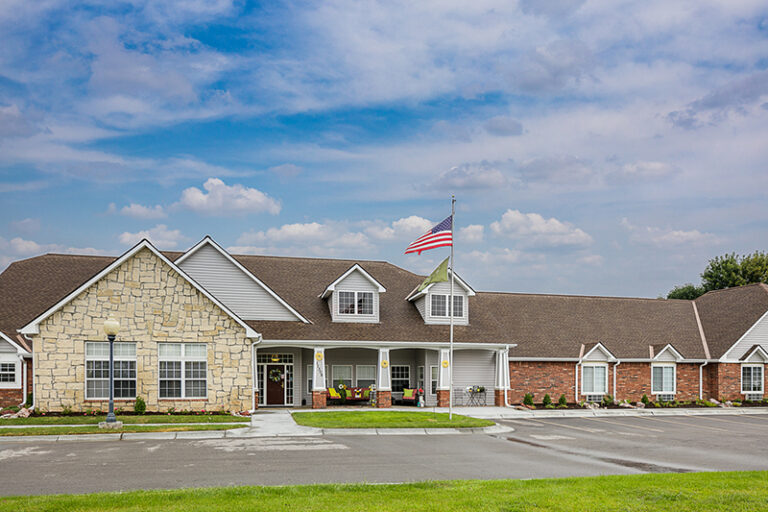 Bickford of Omaha – Blondo
Assisted Living & Memory Care
11308 Blondo St,
Omaha, NE 68164