Real Residents, Real Reviews
Knowing who to trust in this journey is hard — especially when your loved one's health and happiness are at stake.
Real Residents


Real Reviews
Most senior living communities say similar things like: "We provide great care!" or "Our staff is the best!" or "Your mom will be happy here!"
But how do you know that's really true?
Our current residents and families know whether or not we walk the talk. That's why we give you direct access to their real thoughts and real options.
Reviews for Bickford of Clinton
The staff at Bickford are so attentive and loving. (Name Removed) is not only a sweet person but a huge asset to Bickford. She does an amazing job cleaning the rooms and is always willing to help the residents.

The care we receive here is the best, however the lawn care this year leaves a lot to be desired. The trimming and weeding is almost non-existant, and the crabgrass in the courtyard is spreadinp badly. We don't know why you changed companys.

I think the entire team at Clinton's Bickford location work very hard to provide excellent care for the residents. They make it as much of a 'home like' atmosphere as is possible. A special thanks this past month to (Names Removed) (I know I'm forgetting a few names here,so sorry) but all the helpers = pretty amazing! ❤️

The food and kitchen part need improvement. It's an ongoing complaint. The kitchen staff are not listening to the director. When the residents get 4 tator tots that's ridiculous. The portions they get aren't satisfactory. We pay for 3 meals a day! Why is kitchen staff being frugal? We understand not everyone is going to like the meals all the time but residents aren't being listened to and kitchen staff aren't doing their job

My comment is listed in previous text

Bickford has been Wonderful to Mom, and she loves everybody there.All the gals are so good to him, (Names Removed) have been so nice and helpful. Recommen to anyone that needs assisted care. Thank You!!!♥️

So far, it's just great. My mother is adjusting so well and really has come to the understanding that she needs to be there. It's such a nice cute place and I've heard no complaints from her. Thank you for providing such a nice place for my mother, and for us to come to

The level of care and attention provided from all of the team at Bickford has been outstanding and provides a sense of relief and comfort to all our family. Thank you all!!

Your happiest/ activities coordinator (Name Removed) is amazing. She is so sweet and loving to everyone. She has taken the time to get to know all the residents and knows what their interests are. We are so lucky to have her!!!

Bickford cottage and staff are awesome!! They are so good to my Mom, she has been there several years and im so thankful and blessed that she is well taken care of, thanks to each and everyone there .♥️

The transition from independent living was made easier by compassionate (Name Removed). The daily care staff are attentive, pleasant and helpful. (Name Removed) made securing pharmacy transition easy, even though I was arriving after her work hours to help my resident family member.

Staff has always been positive in response and care for my Mom, which is appreciated. She always has good things to say about her stay at Bickford.

Everyone at Bickford has been amazing, they have been wonderful to our mother, she loves it there and all the employees, the gals have been so helpful, (Name Removed) have been great!!! Thank you for such good care for our Mother ❤️

My dad loved the staff at Bickford. Him being comfortable and cared for is a huge relief for the family. Thank you for caring about the (Name Removed) family.

1000% Happy!! Bickford of Clinton is the best!! I appreciate all of you!!

Everyone there has been wonderful to Mom, it has helped her well being and health so much over the years, cant thank everybody enough ♥️

Thank you for taking care of our dad

Poor medical appointment oversight and coordination that was promised

Bickford has been wonderful to Mom and she is so happy there!! Thank you all for your constant help and all your hard work♥️

(Name Removed) is the best!! Wouldn't put my loved ones anywhere other than Bickford!!

My Mom complained of a cellulitis type issue on Tues. the 27 th. The CNA sent picture of foot to off duty nurse, nurse responded to Mother that she felt it was Athletes Foot but would come and look but never did. The Marketing Director handled it by looking at the picture, called family and ordered antibiotic on a holiday Friday at 5 o'clock. Hooray for Marketing Director's past nursing experience!

I'm so grateful for all members of the Bickford staff for all that they do everyday. They take such good care of mom and it's comforting to know that she is in good hands. It is so appreciated!!

Bickford has been wonderful to my Mom, she is happy there and everyone is very helpful and caring, thank you all very much!!!! HAPPY NEW YEAR

Interaction with my Mom tells me Bickford facility and staff has kept her happy. Thanks to the maintenance person for fixing her remote recently too.

We thank you for the care you give to our dad

The staff is AMAZING! So kind and patient with all our questions. They really make it feel like home.

Need to have a nurse available 24/7. I mean a registered nurse. To many things happen during the evening and night hours. Also need to make sure residents room are walkable and free of to much furniture and boxes also in case of fire. My mothers room is a diseatet and an accident waiting to happen. I myself have tried to intervene and she will not cooperate. Thank you

Great place, Mom loved it, everyone was so nice at her birthday lunch. Her health has improved in the years she has been there from when she first came in. Social games, activities have really helped.

We are happy our dad is being cared for with such great care ❤️

Everybody has always been so good to Mom, she loves it here, such a peace of mind knowing Mom is well taken care of, she loves the chair excercises and the games and activities, it all is so good for her health. Thank you all very much!♥️

They do a great job And I think a lot of times they are short staffed Which is very hard then to do any type of a job
Reviews FAQ
Bickford residents and families have frequent opportunities to participate in providing feedback throughout the year. Bickford sends out a comprehensive annual survey evaluating all aspects of a residents experience. Following this survey, Bickford sends out a monthly survey to see if we are making progress on improving their happiness levels. The responses to both surveys are posted on the website and remain there for a year.
Bickford is committed to transparency. That means posting all feedback – both positive and negative. Every review is included in our overall score (star-rating). However, we do not post comments that are libelous, profane or risk violating the privacy of our residents.
A Bickford Verified Resident Review is a review provided by a resident or family member/significant other that has been verified by Bickford as an authorized individual. Individual names are protected for privacy reasons.
Bickford has developed a program to improve resident happiness based specifically on the scores and comments of the surveys. Each Branch sets goals to improve targeted areas identified from the surveys. The actions that need to be taken are discussed as a part of each shifts daily stand-up meeting.
Due to the unique and personalized nature of our business, responses to reviews, if requested, happen individually.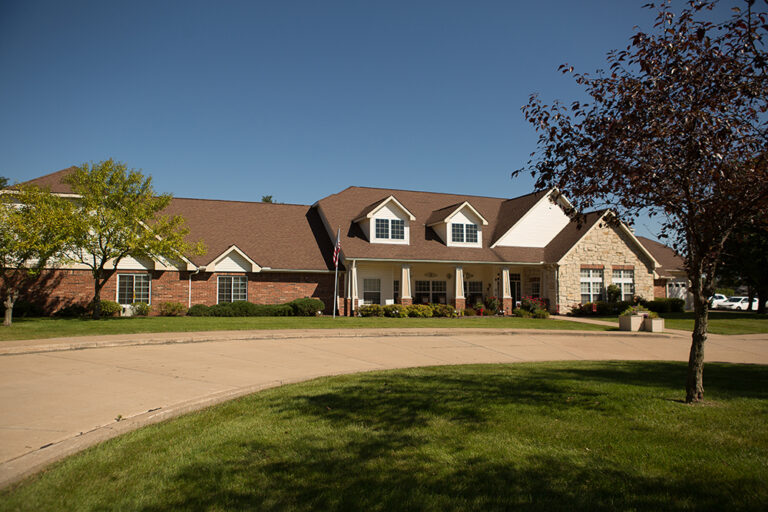 Bickford of Clinton
Assisted Living
1150 13th Ave N,
Clinton, IA 52732