Real Residents, Real Reviews
Knowing who to trust in this journey is hard — especially when your loved one's health and happiness are at stake.
Real Residents


Real Reviews
Most senior living communities say similar things like: "We provide great care!" or "Our staff is the best!" or "Your mom will be happy here!"
But how do you know that's really true?
Our current residents and families know whether or not we walk the talk. That's why we give you direct access to their real thoughts and real options.
Reviews for Bickford of Carmel
3 Concern in MBs about a few of the residents going into rooms that aren't their own and many times take things with them. MB residents have had a lot taken away from them when they enter a facility and all they have left is their private room and belongings, which should be secure. Would it be possible to program the wrist bands to alarm when they enter rooms other than their own since staff are not able to keep eyes on them constantly? Thanks to the staff that truly care for residents and treat them the way our loved ones deserve. Some don't exhibit the same compassion and work ethic and that adds stress to the ones that do. Am hopeful with some of the recent changes that there will be accountability and this will bring Bickford back to the way it was intended to be.

Memory care facility seems more run down lately. My dad (Name Removed) has had toilet leaking from base again making floor slippery.

nothing that we were told that would be done when we came to Bickford Carmel is not at all being done for my mother. Will be looking at other facilities. Have told them over and over but nothing being done. No one is held accountable for anything being done at all. | I would like for a district manager to contact me.

Staffing continues to be an issue as well as the food not very good.

(Name Removed) daughter, (Name Removed), and I have had too many experiences where we attempted to make contact with no responsible person there or available.

Your caregivers in Mary B's are the reason I love the place!! Especially (Name Removed) and (Name Removed) (and others) consistently go way above and beyond to personally know how to not only meet my dad's specific needs, but make him feel respected, valued and loved!

Staff turnover, food shortages. Not fixing what's on the menu. (Why even have one?) staff that is good seem to quit or get fired. Overall moral is very low and it appears no one really cares.

Food is still not good according to my father, and he is not happy with pretty much everything.

My satisfaction is directly related to the communication and support I have received from your employee, (Name Removed) in memory care.

We so appreciate how you look out for (Name Removed) in Mary B's as she needs encouragement to drink water and help to eat.

Everyone and everything had been good!

We were never informed of eleven residents with covid during the holidays. Her Hearing aide was lost and I have asked the staff to put in hearing aides but its hopeless with your mgt.

Changed my fathers level of care without notifying me. Food continues to be a hugh disappointment to my father.

You have a wonderful BFM in (Name Removed), the housekeeper. She does a great job but always makes time to smile and ask if you need anything...a truly caring person and very valuable to the facility.

Ever since (Name Removed) left things have seemed to have gone downhill. Her replacement? We have yet to even meet her. (Name Removed)? He does not listen and makes quick decisions based upon what he believes to be true without getting everyone's statements. Not one but two 7% increases In approximately 12 months??? Really??

Understaffed, staff sometimes don't show up for work, sometimes late (hours late), and some are very rude. Quality of staff and staffing levels and treatment of residents is failing.
Reviews FAQ
Bickford residents and families have frequent opportunities to participate in providing feedback throughout the year. Bickford sends out a comprehensive annual survey evaluating all aspects of a residents experience. Following this survey, Bickford sends out a monthly survey to see if we are making progress on improving their happiness levels. The responses to both surveys are posted on the website and remain there for a year.
Bickford is committed to transparency. That means posting all feedback – both positive and negative. Every review is included in our overall score (star-rating). However, we do not post comments that are libelous, profane or risk violating the privacy of our residents.
A Bickford Verified Resident Review is a review provided by a resident or family member/significant other that has been verified by Bickford as an authorized individual. Individual names are protected for privacy reasons.
Bickford has developed a program to improve resident happiness based specifically on the scores and comments of the surveys. Each Branch sets goals to improve targeted areas identified from the surveys. The actions that need to be taken are discussed as a part of each shifts daily stand-up meeting.
Due to the unique and personalized nature of our business, responses to reviews, if requested, happen individually.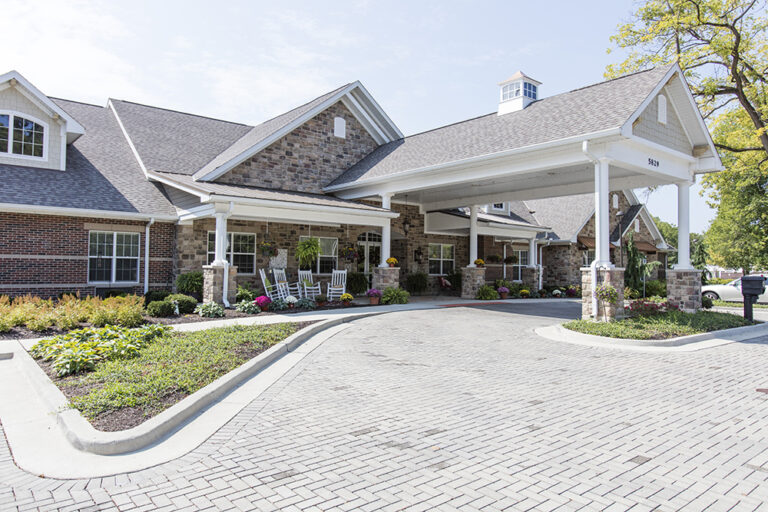 Bickford of Carmel
Assisted Living & Memory Care
5829 E 116th St,
Carmel, IN 46033