Real Residents, Real Reviews
Knowing who to trust in this journey is hard — especially when your loved one's health and happiness are at stake.
Real Residents


Real Reviews
Most senior living communities say similar things like: "We provide great care!" or "Our staff is the best!" or "Your mom will be happy here!"
But how do you know that's really true?
Our current residents and families know whether or not we walk the talk. That's why we give you direct access to their real thoughts and real options.
Reviews for Bickford of Portage
This place is a mess!!!! One person on overnights in Memory Care, with all the needs??? 2 people on staff the last 4 shifts!!! This place is entirely unsafe!!

Same old thing not enough help to cover residents needs

There continues to be issues with reaching a staff member over the phone especially after hours and weekends. Very frustrating when questions arise and a nurse needs to be contacted.

Mom says she wants more activities.

Staffing issues are affecting the level of care. The staff that are in there are very good. But the experienced staff are spread pretty thin right now

Staff is always helpful and kind. I feel confident that mom is receiving the care and attention she deserves.

Response time is still slow

Will share comments in an email that will be sent in the next day.

They lost some of his things, no one will take responsibility for losing them.

The ladies that run the memory care unit are amazing. It makes such a difference. They make it feel homey there. Can't say enough good things

I still believe in Bickford and the attitudes of the staff there. The problem I see in the last two months is that the teams are overwhelmed. Short staffed helpers are doing triple duty (in my opinion) and they are not able to handle the heavy load to make up for those staff that up and leave. I have no insight as to why some of the good staff leaves so I can't comment much on that. But I do know the ones that are left behind are those "winners" that Bickford can't afford to lose. Please do not take my comments as an indictment on the current floor staff or Directors there. All I know is that I have had to start mopping my dad's bathroom floors and shampooing his rug regularly. Picking up extra trash and buying trash can liners. If corporate needs input from me, I am more than happy to have a constructive and positive dialogue about possible solutions. Until there is a better way to incent people to stay or keep morale up, I fear my dad, and other residents, are the ones who lose out. I know Bickford wouldn't want to let the great reputation it has earned begin to erode. I'm sure there are many ways to handle things until the place gets staffed up. Example, temporarily put a moratorium on admitting more patients than a normal staff or nursing team can handle. Maybe sacrifice a few margin dollars by keeping some rooms empty until more staff is brought in with incentives to join AND stay. Although it may be counter to a business model to turn away a few dollars, it is more of a business risk to have suffering patients and stressed out family members who carry the

My mother has Hospice staff assisting her as well as Bickford. Twice in the past 2 weeks the Hospice staff noted bruises on my mother. Bickford staff denies any knowledge of how she got them. My mother cannot walk or get up, see needs assistance. Is it new staff, untrained staff, agency staff? Get it figured out! I don't want anymore phone calls telling me my mother has bruises because your staff are unaware of her limitations.

2 - Mary Bs absolutely needs at least three caregivers minimum on first and second shift. It is tiresome to continue to get lip service from leader ship, including corporate. 2 staff, a special needs resident that should have 1:1 care. It's not meeting my expectations for Care at all.

It disappoints me that the answer to every problem you have seems to be to fire someone. If you saw a quality in them, good enough to hire them in the first place, or you have given them some type of promotion or commendation you really should consider re-training people rather than firing them. If someone isn't doing some thing correctly, you have a responsibility to train them and not cast them out.

No comment | I don't know why,i would be embarrassed to get this kind rating if i owned a business.

1 | C. On 6/22/23 I sent an email I thought to the director but it went to (Name Removed) (activity director) about some issues with the care of my mother). (Name Removed) emailed back that it would be forwarded to (Name Removed). I have not heard back yet from (Name Removed) and (Name Removed) has inquired twice if I have had any response. The quality of care mom is receiving has not been satisfactory. There are 3 Bickford family aids that are terrific & I can tell when they have been assigned to my mother. There is too much to type here with my concerns.

(Name Removed) is definitely making a difference. We can see the improvements and positive changes weekly.

Extremely mad at being lied to about amount if staff at Mary B. Starting Monday only 2?!!!! This is not acceptable with the needs at this time. If family wasn't there so much the three, and 4 with help of activities isn't enough!!! We pay waaaay too much for this! I am truly questioning the safety of this place! Yesterday a staff was vaping in the courtyard with residents, also I was out there and she got too hot so left me with 4 residents, and on her phone while passing out food. Another staff was on her phone texting like crazy!!! You need a supervisor back there! Many of us would move our family member but all who have moved have passed within a month of moving, so it is not an option! HELP!!!!! | Also (Name Removed) the staff on Friday night had all of them in bed, except3 by 6:45 with all the lights out!! Not acceptable | Seriously!!!!(Name Removed), the new girl,alone on a 3rd shift!! Are you out of your Mind???? I can't handle this my Mom is not safe and I can't sleep because of you

I am highly concerned with lack of staff, decisions made on taking residents that are a danger to other residents and staff. Lack of stimulating activities Sunday through Tuesday for Mary B s residents, overall safety and lack of attention to the residents that are not as needy!!!!!!!!!!! Bickford needs to step up and support their staff, we lose too many! I pay waaaaay to much for the lack of services to my Mom!

Everyone is genuinely trying, & I so appreciate that. The water that is available is ineffective in that most of the time there are no cups available, and the residents can't get a drink on their own. They really need to have a drink handed to them in cups with lids and straws. I think my biggest issue is that when a resident sleeps through meals they are not fed later. They are offered dinner at 4:30, then they don't have any food until breakfast the next morning. There's a lot a family support in the Marry B side, but recently they put a sign on the cabinet that the cups/mugs are kept in saying staff only. If you have family members that are willing to take some of the work load off the staff by helping to hydrate our people, why would you add a job for the staff to have to stop what they're doing & get a cup out for us? (Name Removed) is beyond fantastic! He's the most responsive hardworking handyman I've ever seen.

Bickford has made some great changes lately. (Name Removed) & (Name Removed) are doing a great job. Someone finally figured out that they need to bring the food to Mary B's instead of making someone go get it, & there's a container with water available finally. The ladies who work in memory care are all fabulous & really hard-working. Nothing is perfect, but everyone is trying hard And (Name Removed) the activities coordinator is fantastic!

5. If you could give Bickford a 6+, I would give it. I am highly satisfied with my father's care. Bickford is giving and compassionate to ALL the residents, not just my father.

We are struggling to ensure that all the steps of mom's care plan are being followed every day. We love the staff and are grateful for their amazing work and care. They are wonderful.

No one can top the excellence and compassion that Bickford of Portage delivers. We could not be happier with the attention my father receives. Well done.

Comments are never answered ,WHY?

We're disappointed that we haven't meet the director yet. She's either not there or unavailable when we stop in. Would like to see Family Councils reinstated to improve communication.

We've been told that things are supposed to be getting better here they're not. It just keeps going down hill in all respects

Still unimpressed with call light times. Activities are not being held as described on the online newsletter on the weekends. There are several good med techs which is why I am giving a 1 star rating. They are the reason I keep my mom at Bickford. Please make improvements and listen to our concerns. Our loved ones are in your hands in their last days. Please respect their lives.

Need more staff. The key fob to get in works intermittently and it has for the year that my mother is been there.
Reviews FAQ
Bickford residents and families have frequent opportunities to participate in providing feedback throughout the year. Bickford sends out a comprehensive annual survey evaluating all aspects of a residents experience. Following this survey, Bickford sends out a monthly survey to see if we are making progress on improving their happiness levels. The responses to both surveys are posted on the website and remain there for a year.
Bickford is committed to transparency. That means posting all feedback – both positive and negative. Every review is included in our overall score (star-rating). However, we do not post comments that are libelous, profane or risk violating the privacy of our residents.
A Bickford Verified Resident Review is a review provided by a resident or family member/significant other that has been verified by Bickford as an authorized individual. Individual names are protected for privacy reasons.
Bickford has developed a program to improve resident happiness based specifically on the scores and comments of the surveys. Each Branch sets goals to improve targeted areas identified from the surveys. The actions that need to be taken are discussed as a part of each shifts daily stand-up meeting.
Due to the unique and personalized nature of our business, responses to reviews, if requested, happen individually.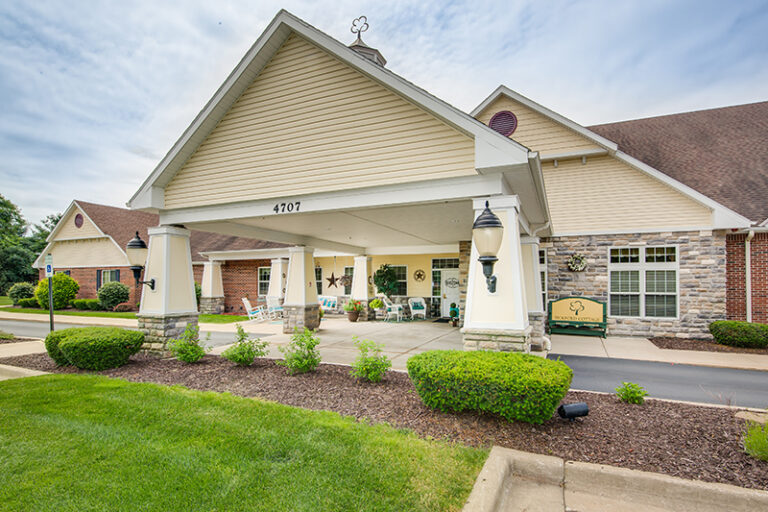 Bickford of Portage
Assisted Living & Memory Care
4707 W Milham Ave,
Portage, MI 49024