Real Residents, Real Reviews
Knowing who to trust in this journey is hard — especially when your loved one's health and happiness are at stake.
Real Residents


Real Reviews
Most senior living communities say similar things like: "We provide great care!" or "Our staff is the best!" or "Your mom will be happy here!"
But how do you know that's really true?
Our current residents and families know whether or not we walk the talk. That's why we give you direct access to their real thoughts and real options.
Reviews for Bickford of Cedar Falls
Lots of points that I want to mention:

What's going on with the management staff? Is (Name Removed) the only one there? What happened to (Names Removed) ?

LTC insurance claims not completed when submitted. Correct process for submission not being carried out. Families members at facility are in danger of loosing benefits.

Very frustrating that it's been over 3 weeks since I contacted about replacing the bathroom flooring (something that I feel should have been noticed by staff/cleaning crew before I even had to contact) and it's still not replaced. The duct tape used to "fix" it is now starting to come up too. This is not a little thing, it is a major tripping hazard and should have been replaced promptly. We asked that staff stay with her while taking meds to make sure they're all taken because we kept finding pills laying around and when I went in today there were pills laying on the table again. It would also be nice to see staff encouraging her to go outside on nice days and even sitting with her instead of sitting inside on their phones or chatting with each other while she just sits alone in her room. She loves to be outside but doesn't realize what season it is and thinks it's cold out.

I appreciate the improved communication. Updates with good news are wonderful to hear.

There was miscommunication and lack of communication this month. I know it's been difficult with Covid.

We love the new leadership and activities/adventure coordinator!!!

My mom said a few caregivers tell her she doesn't need two showers/baths a week. I believe that is part of her care plan to have 2 per week. She would like it if caregivers wore name tags so she could learn their names.

Don't think that she is getting the care that should be provided. I believe that she should be given her meds every day,if she refuses should try again and again,maybe get more inventive on getting her to take them.

This is not the same place I moved my mom in 3 years ago. Many med errors and staffing issues. Hopefully this is going to have a drastic turn around for the better in the near future. It is very sad to see the frustration in the staff who really care about the residents and try to do the best they can when others are not doing their jobs and no one seems to care.

Way too many med errors. Just lucky they did not critically harm anyone. Meal have been served late. What happened to residents being part of family. The quality of care is drastically dropped from even a year ago and it keeps going down. Yes, the direct care CNA frequently work short staffed but there is only so much they can do. The problem is much higher. Also they are not the ones doing meds.

Staffing is to low most days. Unable to complete all necessary tasks. My mother has had to wait after signing her needs, I have come in and taken care of them and there is still a wait before someone recognizes she has a need. Food is the same and the wait may be long. Some staff aren't as courteous as the could be. My mother is blind and needs to be talked thru things.
Reviews FAQ
Bickford residents and families have frequent opportunities to participate in providing feedback throughout the year. Bickford sends out a comprehensive annual survey evaluating all aspects of a residents experience. Following this survey, Bickford sends out a monthly survey to see if we are making progress on improving their happiness levels. The responses to both surveys are posted on the website and remain there for a year.
Bickford is committed to transparency. That means posting all feedback – both positive and negative. Every review is included in our overall score (star-rating). However, we do not post comments that are libelous, profane or risk violating the privacy of our residents.
A Bickford Verified Resident Review is a review provided by a resident or family member/significant other that has been verified by Bickford as an authorized individual. Individual names are protected for privacy reasons.
Bickford has developed a program to improve resident happiness based specifically on the scores and comments of the surveys. Each Branch sets goals to improve targeted areas identified from the surveys. The actions that need to be taken are discussed as a part of each shifts daily stand-up meeting.
Due to the unique and personalized nature of our business, responses to reviews, if requested, happen individually.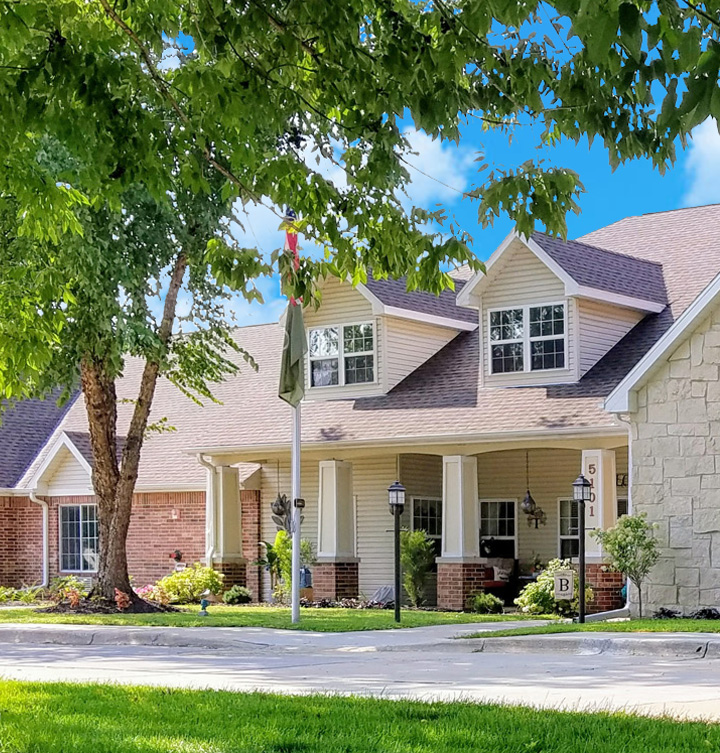 Bickford of Cedar Falls
Assisted Living
5101 University Ave,
Cedar Falls, IA 50613