Bickford of Saginaw Township
Real Residents, Real Reviews
Knowing who to trust in this journey is hard — especially when your loved one's health and happiness are at stake.
Real Residents


Real Reviews
Most senior living communities say similar things like: "We provide great care!" or "Our staff is the best!" or "Your mom will be happy here!"
But how do you know that's really true?
Our current residents and families know whether or not we walk the talk. That's why we give you direct access to their real thoughts and real options.
Reviews for Bickford of Saginaw Township
The staff provide excellent care. It's a great facility.

My mom hasn't had any housekeeping services for going on two weeks. Short staffing continues, the dedicated like caregivers are worn out from working so many hours.

I still remain concerned that there have been so many major changes regarding staff… With very little to none communication as to why… That said… (Name Removed) has been very helpful and responsive… As have those caregivers that remain…

We are so grateful to Bickford and all of the staff! (name removed) and (name removed), (name removed) and (name removed) ... we are especially appreciative of our mom's daily caregivers and housekeeping. She is always well taken care of! During a recent hospital stay, (name removed)and (name removed) were wonderful helping us navigate our mom's path back to Bickford! We can't wait to get her back from Rehab!

I want to thank (Name Removed) for passing on to the next shift that (Name Removed) wasn't herself and (Name Removed) for getting in touch with me that she needed to be seen. I was out of town so she coordinated things for me.

First of all, I appreciate the email about (Name Removed). There was no organization with her. I went to her with several issues & it took a while to get it taken care of. She disregarded things the girls would tell her!!! They are the heart of Bickford & see & hear things that if important should be able to go to the director with. (Name Removed) was not an open door. But she did take care of the aide that hurt mom!! Second the "new people" in office have not introduced themselves to any residents. They have wondered "who are they??" There are some who still have their wits about them!! They at least should know their faces & what they're doing!! The 5 is for the extremely over worked but amazing aides!!! They are so caring & concerned about my mom & the residents. (Names Removed) I know there's a few I'm missing... Hopefully with the dismissal of (Name Removed) this place can get back in shape!! We lost some great girls because she was hasty in finding out the truth of the problem's. I had asked her at least 4 months ago to about setting up a reevaluation of mom, (Name Removed). I'm paying for 2-1 care & she's been ONE on ONE for the last 6 months!! She still needs assistance but no longer two person assist. The meals have been a BIG problem forever!! Cold food, uncooked French fries; still half frozen, Cold hotdogs, hamburger patties... whenever (Name Removed) cooked that's what they got!! Unacceptable!! (Name Removed) is FABULOUS!!! (Name Removed) seems to know his stuff!!There's never enough coffee, creamer, mayonnaise etc!! WHY are the residents only allowed 2 small cups of cof

Same as always - inconsistent cleanliness, things getting lost or misplaced (her glasses went missing twice in the last 3 weeks for several days). I still feel like I have to go nearly every day to check on her. I missed two days of visits. On both occasions, the following day when I went to visit, her glasses were gone. That is ridiculous. For the amount of money that we pay for my mom to stay there I shouldn't feel like I have to go every day to check on her well-being. I should be able to trust in your staff to ensure her care and safety. I am praying things get better with a change in leadership. Please know there are a handful of staff that I know and trust but there are more that I don't. When they are present I don't feel welcome at all. I have entered the home on several occasions and not been greeted by the staff, even when they have had to let me in because my fob didn't work. Not even a simple hello.

I like that they now have outings for the residents. Little nervous with so much change of staff so we shall see One area of improvement could be making sure paperwork is completed in a timely fashion for long term care policies

About 2 weeks ago, (Name Removed) was missing her laundry with her sheets and bath towels that were collected on Friday. It's the following Tuesday and she is missing them. I went into the facility because she was told that they did not have a key to the laundry room. Earlier (Name Removed) was telling her to stop crying about it. (Name Removed) also talked to me about (Name Removed) anxiety about her laundry and I agreed that her anxiety was higher that day due to the lost laundry. I should have stated that someone did not finish their job and this would not have happened if the job was completed. Finally, maintenance got a key and I found her sheets and towels in a dryer and they were partially dried. I was frustrated and took them out and hung them in (Name Removed) room. I hung the sheets on her opened closet doors and hung her towels over her shower rod to finish drying. I did not tell (Name Removed) that (Name Removed) anxiety would not have been there if someone had done their job correctly. I am 72 years old and still working. I have to preform my job to the quality that (Name Removed) expects from me or I will be written up. (Name Removed) needs to be told that (Name Removed) had rights to show anxiety since that towels were taken on a Friday and it was Tuesday and still partially wet in the dryer. I did not reset the dryer because I wanted (Name Removed) to be assured they were in her apartment. You don't want your residents to feel like they can not trust those who are working there about ordering medication or doing laundry. That shouldn't be a worry for them.

Overall, I have been very happy with the care and especially the activities and those that help with that I am very concerned about the frequent turnover that has happened in the last three years…with another one now with (Name Removed).

I've been very pleased with all the improvements at Bickford this past month!! (name removed) is AMAZING with everyone!! Mom just adores (name removed). Of course, (name removed) is another one of her favorites. I appreciate these ladies, taking the time to give her some extra attention & personal care. I appreciate the direction you took to take care of the problem with (name removed). I was extremely angry and mom was extremely scared. If nothing would have been done, I was going to the main office & pulling mom out of Bickford. I spoke to a few of the girl's and they also seen her attitude and anger show up!! I have a lot more confidence in Bickford , I really do feel good about having mom there. The one thing that seems to be the trending problem is the grocery supplies: coffee, creamer, sugar, butter. It seems like they run out a lot. Being that there's only three times a day most of these resident's get coffee, I would think a supply could be on hand out of the grocery budget for the three meals. I've witnessed three separate evenings where there was only one cup of coffee per person! Those cups are small... Let me just say the residents were not happy. I hear a main complaint from all tables is the food is cold. I understand making meals for all those people is a task and a challenge. But cold eggs & french fries are not desirable & cold hamburgers are definitely not tasty, cold brussels sprouts are not pleasant. I've also heard a lot of them saying " LIMA BEANS AGAIN?!?" LOL, just passing that on !!! Bless the cooks heart for doing all

(name removed) and (name removed) are doing a fantastic job. Without them, Mom's plan of care is not followed. Often not receiving her meds. Mary b's regularly has only one staff member in the unit. During meals 3 are a minimum.

Bickford is wonderful! We are so happy with the care our mom receives there. The staff is kind and compassionate and always makes sure we are well informed. They tend to her needs in a very caring and respectful manner. Her room is clean and well maintained by the wonderful housekeeping staff. After several months of our mom living there, we can't say enough good things about Bickford's staff and are so blessed to have been able to move her in there!

2-3 | Consistency continues to be my concern - especially consistency with housekeeping and staffing. I would like to get to a space where I can trust that my mom will be cared for consistently without me having to worry. I still feel like I have to go every day to check on her.

(Name Removed). Awesome! | Thankful for activities that get him out and about ... and for all the chances to be active in the branch

I wish family could provide over the counter medicine for residents. Value Med Pharmacy is very expensive

I've seen A LOT of staff be let go, which can be positive if done for the right reasons, seen GOOD works quit , along with lead staff: (Name Removed)... SOMETHING is going on and I sure hope it's resolved before you're back to square one. Mom seems to be more comfortable each week. I'm happy she's clean & being kept up. She told me that a "few" staff don't wipe her after she pees!!! She can't recall names but was pretty upset two different times I had come in that she wasn't wiped off. She mentioned several times that (Name Removed) (sp.?) is " rude, talks back to her, rough with her... works too fast to toilet her & get ready for bed. One night I was there : she had come barreling into her room & stopped short when she saw me!! More than once mom told me this. Short staff doesn't give leeway to be rough & rude!!! (Name Removed) are absolutely amazing!! Mom loves them!! I have watched staff at mealtime walk past a resident that politely asked for coffee, water... turn their back & ignore them!! More than once... they pass out good & ignore polite questions for items. Now I know short staffing sucks but to be polite takes no time at all to say " I'll be right there in a minute!" These residents are their paychecks!! I've seen the moral go from one extreme to totally smashed!! Which I know happens when stress takes over: over load of residents to one gal, un-even split of another : one has 4/another has 6 with a few that are more work...which in turn takes away from my mom & others. That's not safe or fair to staff. The common issue is communication from all the

Would love to stop seeing so many staff members leaving! Might want to take a hard look at why Bickford can't keep good staff members around longer!

My mom has been doing much better lately. She loves "her girls" who help her & tells me how: (Name Removed), (Name Removed), (Name Removed), and I think she said (Name Removed) are very good helpers & (Name Removed) is a sweetheart very smart! I'm thankful that she is kept clean & her room is also kept tidy which is important to mom. (Name Removed), the hairdresser, is a darling lady!! Mom loves her Thursday appointments!! She tells me the food is " mostly good" & sometimes "it's really good!" The fobs are a bit of a challenge: sometimes it works next it doesn't. And I know if the residents are close to the door it won't open. But nine out of 10 times no one is at the door and I can't get in or out.!! I understand when they opened Mary B there was a glitch with the fobs. Are we supposed to turn ours in to reset?? Thank you for continuing to try & improve Bickford in positive ways.

Staffing, or the lack there of, has been the biggest issue.

Some improvements noted. Appreciation to: (Name Removed), (Name Removed), (Name Removed), (Name Removed), (Name Removed), (Name Removed).

I appreciate having our new nurse (Name Removed). … She has been very responsive and helpful. I also especially appreciate (Name Removed), (Name Removed) and (Name Removed) for helping with grooming for my brother. Am excited to meet the new happiness coordinator. Sounds like she has a lot to share with the residents! Their interests are varied. … I hope she is able to connect somehow with my brother…

We are paying almost $ 1,000 more per month. Instead of new tvs and fresh paint we need to hire a maid service and to have management staff here more than 8-4 m-f.

I just believe there is always room to improve, adjust, etc etc. Thanks!!

My mom throws things out. Most of it gets caught by the staff. However, her shoes and tv remote have gone missing. I am sure she threw them away or put them somewhere in the hall, I just get frustrated that these things are not getting caught.

The over all care has been great with mom. Keeping her clean is a priority & mom feels she is comfortable. I know staffing is very complicated now. The staff run themselves ragged. I'm worried about SAFETY for them & the residents. I heard there was a real fire there and we were not notified!!! This upsets me very much!!! Small or large an emergency situation is something that should automatically be reported to all family members!!! Do have fire drill practice to get residents & staff out?? Low or full staff ... you should be having practice drills for all emergency situations. That's a requirement by law. I know the cook issue is a BIG problem... BUT there are A LOT of carbs being fed to them in the same meal. The residents don't move enough to burn those calories up!! Yes, carbs are cheaper & a part of the diet but to serve: roll, macaroni salad, pork & beans & SMALL piece of dried ham is ridiculous!! Frozen vegetables, salads, casseroles, baked spaghetti, chicken & dumplings, pizza, chili, Macaroni & cheese w/ vegetables... If the cook can BALANCE out the meals it would make the residents feel better!! I know mom says breakfast is her best meal!! The price of food should not be a concern when you get what's being charged to us. You may need a dietitian to help with planning!! Once again the budget is tough but activities are important!! I know there is a gal that does them & mom loves the Bingo! Painting, balloon games, chair dancing, bowling in the hall, wheelchair trots.... activities need to be done more threw the week if possible... interaction really is ne

Housekeeping is lacking. Bathroom is not picked up and messy.

Facility is very short staffed! Follow through with requests from certain staff members is poor to none. My mother has not been getting showers!Her room has been dirty when I've visited, and she is paying a level 4 care cost⁉️

Staff in memory unit has been very good and caring to my Dad.

We're very concerned regarding another 7% rate increase this year as the last one was only one year ago. When we saw the new addition going on, it's what we were afraid would happen. Mom will have been there 4 years in January. And through that time we've been happy with her care and the people there. I'm afraid we're going to have to take a look at other options although we really don't want do that. Are there any exceptions to getting the full increase? Appreciate your consideration.
Reviews FAQ
Bickford residents and families have frequent opportunities to participate in providing feedback throughout the year. Bickford sends out a comprehensive annual survey evaluating all aspects of a residents experience. Following this survey, Bickford sends out a monthly survey to see if we are making progress on improving their happiness levels. The responses to both surveys are posted on the website and remain there for a year.
Bickford is committed to transparency. That means posting all feedback – both positive and negative. Every review is included in our overall score (star-rating). However, we do not post comments that are libelous, profane or risk violating the privacy of our residents.
A Bickford Verified Resident Review is a review provided by a resident or family member/significant other that has been verified by Bickford as an authorized individual. Individual names are protected for privacy reasons.
Bickford has developed a program to improve resident happiness based specifically on the scores and comments of the surveys. Each Branch sets goals to improve targeted areas identified from the surveys. The actions that need to be taken are discussed as a part of each shifts daily stand-up meeting.
Due to the unique and personalized nature of our business, responses to reviews, if requested, happen individually.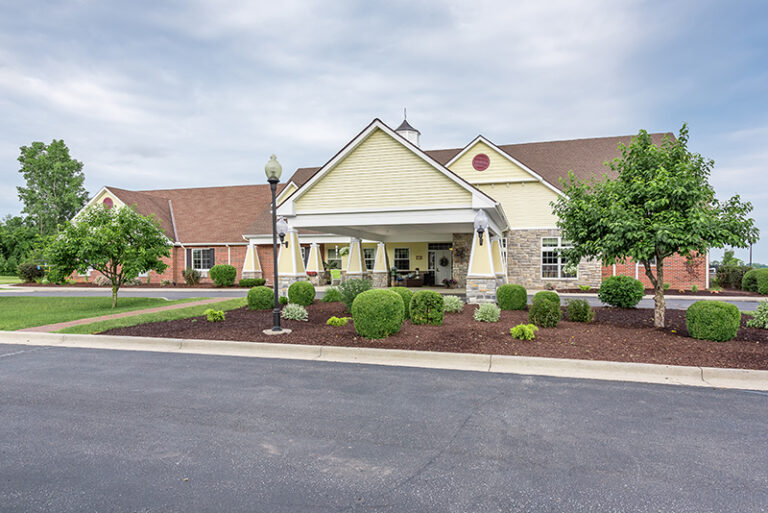 Bickford of Saginaw Township
Assisted Living & Memory Care
5275 Mackinaw Rd,
Saginaw, MI 48603